Say what you want about Bill O'Reilly, but he never shies away from surprising people. Take this weekend's upcoming Parade magazine, in which the Fox News host writes a lengthy column headlined, "What President Obama Can Teach America's Kids" (first reported by Politico).
This is just about as glowing as any profile of Barack Obama written by a fawning lefty. But there's nothing like seeing it in print to get the full impact. Here's a sneak peek: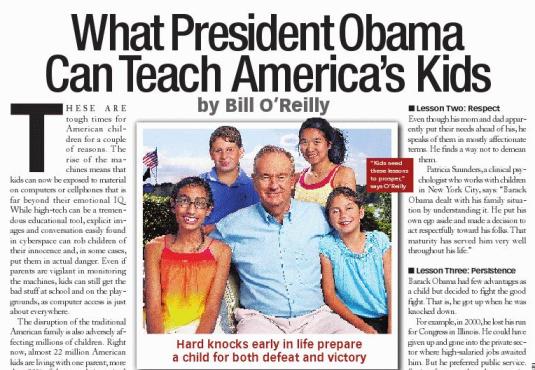 The Fox News host, surrounded by children of various races, writing about our liberal, Democratic President. It's enough to make Keith Olbermann throw up a little in his mouth.
Here are some passages:
As has been widely chronicled, Barack Obama had a tough childhood filled with instability and loneliness. However, that did not stop him from rising to become the most powerful man in the world. His breathtaking achievement presents five important lessons for all children.
Those lessons are forgiveness, respect, persistence, hard word, and 'anything is possible.'
More, from the powerful conclusion:
What he has achieved in his 48 years is simply astounding. Consider the odds. The United States is a nation of more than 300 million citizens. Only one person is currently the Commander in Chief. That man had no fatherly guidance, is of mixed race, and had no family connections to guide him into the world of national politics. That adds up to one simple truth that every American child should be told: "If Barack Obama can become the President of the United States, then whatever dream you may have can happen in your life."
For those who are absolutely floored, you probably don't watch enough of The O'Reilly Factor. The top-rated cable news host undeniably leans right, but by no means can be grouped with conservative Sean Hannity or pseudo-conservative Glenn Beck.
What's more, O'Reilly has a very clear respect for Obama that comes directly from the then-Senator's decision to come on The Factor for a lengthy interview during the presidential campaign. It was a self-serving mission for both – Obama picked his appearance to compete with the Republican National Convention, O'Reilly got a multi-night, highly-rated 'get.' But there's a reason VP candidate Sarah Palin wouldn't go toe-to-toe with O'Reilly – he's not an easy interview. That respect has translated to some dividends for Obama.
While Hannity plays "Carmina Burana" and Beck plants 'is he racist' seeds, O'Reilly stays largely above the fray. Still – some conservatives and liberals will be in for a surprise when they open their Sunday newspapers this weekend and see a smiling O'Reilly espousing the life lessons of our Commander in Chief.
—–
» Follow Steve Krakauer on Twitter
Have a tip we should know? tips@mediaite.com