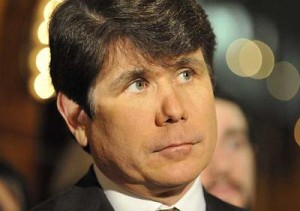 Rod Blagojevich's former chief of staff and one-time law school roommate Alonzo Monk took the stand at Blago's corruption trial yesterday as one of the first witnesses to testify. But this isn't a student court case between bunk mates about a stolen sweater. This is the real deal, and Monk has a lot to say.
AP reports that Monk revealed several money making schemes that inner members of the Blagojevich camp (himself included) planned and executed during the former Illinois governor's political career, one starting as far back as 2003. The plans reportedly garnered no lower than $100,000 each, and in the case of a deal with failed investment bank Bear Stearns, as much as $10 billion.
But Blagojevich and Monk didn't work alone – campaign fundraisers Tony Rezko and Christopher Kelly worked along with them, and according to Monk, Kelly was the one who originally wanted to use Blago's political power to make some extra pocket change. The quartet even had a clever codename for themselves: "one, two, three, four." Okay, maybe not so clever.
Monk pleaded guilty to the charges against him and decided to work with the prosecution as a witness in hopes of having his sentence reduced. Blagojevich, on the other hand, continues to profess his innocence. On Tuesday during opening statements, defense attorney Sam Adam Jr. painted a picture of Monk "as someone who had dazzled and befriended Blagojevich as a younger man, then duped and betrayed him when he was governor." If convicted, Blagojevich faces up to 415 years in jail and could pay upwards of $6 million in fines.
Since the judge took away his tweeting rights, Blagojevich has yet to release a statement about his roomie's betrayal. But I'd be willing to bet that the two won't be sharing a bunk bed anytime soon – unless, of course, it's in a jail cell.
Have a tip we should know? tips@mediaite.com