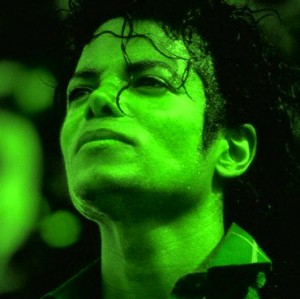 If only more news outlets would have listened to TMZ when they first broke the news. Michael Jackson coverage was plentiful at the end of last week, but was not enough to overtake the amount of Iran coverage, according to this week's Project for Excellence in Journalism (PEJ) report.
In total, Iran occupied 19% of the newshole, while Jackson coverage reached just 18% after the #IranElection head start. PEJ aggregates media from cable and network TV, online outlets, print and radio to formulate it's study.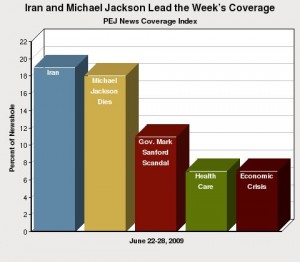 But didnt' it feel like there was more MJ coverage? Well maybe that's because on cable TV, and TV in general, the amount of coverage was far skewed toward the King of Pop. 93% – yes, 93% – of cable coverage on Thursday and Friday was occupied by Jackson and related stories. Compare that to just 37% of front-page coverage in print on Friday (and 55% of online coverage).
Another chart found in the PEJ study looks directly at Jackson coverage by industry. Cable news was the winner hands down – with more than 35% of its weekly coverage devoted to MJ. Network TV had approximately 20%, followed by online, newspapers and radio all around 10%.
Gov. Mark Sanford had to be happy with the study – it found just 11% of the news coverage was devoted to his Argentinian love affair, enough for the bronze of the week.
The amount of Iran coverage may have severely dropped off on cable TV, as they've become Access Hollywood in the wake of the recent high profile celebrity deaths. But when looking at all of media, the Iran story has not gone away. Some who have complained about the sensational coverage could take solace in that.
—–
Have a tip we should know? tips@mediaite.com