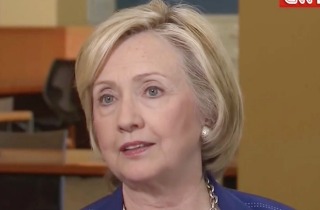 In an op-ed Tuesday, The Boston Globe urged Democratic presidential candidate Hillary Clinton to stop accepting funds for the Clinton Foundation and to eventually just let the charitable organization die.
The Clinton Foundation has been a constant source of controversy for the candidate ever since the book Clinton Cash alleged last year that foreign donations to the charity coincided with favorable decisions from the State Department. Those allegations gained new legs recently when new emails showed State Department employees seemingly doing favors on behalf of the Clinton Foundation.
"Although the charity founded by former President Bill Clinton has done admirable work over the last 15 years, the Clinton Foundation is also clearly a liability for Hillary Clinton as she seeks the presidency," the Globe writes. "The once-and-maybe-future first family will have plenty to keep them busy next year if Hillary Clinton defeats Donald Trump in November. The foundation should remove a political — and actual — distraction and stop accepting funding. If Clinton is elected, the foundation should be shut down."
The Globe argues that the "inherent conflict of interest was obvious" back when Clinton became Secretary of State. "If the foundation's donors are truly motivated by altruism, and not by the lure of access to the Clintons, then surely they can find other ways to support the foundation's goals. And in four or eight years, the Clinton family could always form a new foundation and reestablish their charitable efforts."
"The Clintons should move now to end donations to the foundation, and make plans to shut it down in November. Even if they've done nothing illegal, the foundation will always look too much like a conflict of interest for comfort," they conclude.
[Image via screengrab]
——
>>Follow Alex Griswold (@HashtagGriswold) on Twitter
Have a tip we should know? tips@mediaite.com