Well, this is a doozy of a newspaper cover. The April 27th edition of the Boston Herald tackled head-on the issue of illegal immigration, and what Massachusetts is doing to cut down on government funding being used to support impoverished illegal immigrants. Except they seem to have inadvertently hit on a racial nerve in the process.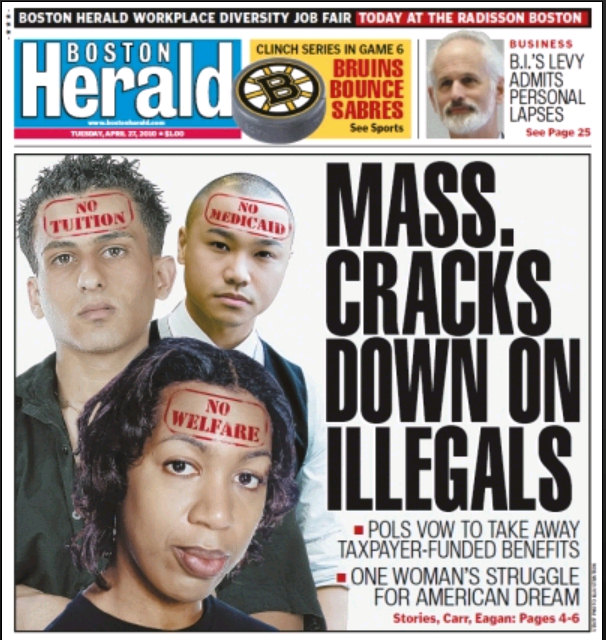 With the loud title "Mass. Cracks Down On Illegals," the Herald shows three different people– a Caucasian-looking young man, an Asian young man, and an African-American young woman– with three stamps on their foreheads: "no tuition," "no medicaid," and "no welfare," respectively.
It appears to be an attempt to present the "illegal" as a rainbow coalition defined by no distinguishing feature, perhaps in light of the Arizona debate surrounding what an illegal immigrant looks like. The fact that none of the three people could pass for Mexican, the group most targeted by opponents of illegal immigration, corroborates this. Except it looks like someone has overlooked the fact that implying the lighter man is the one going to school and the African-American girl is the one on welfare might be referencing an unfortunate historical stereotype. Good thing the cover also tells us the Herald is having a "workplace diversity job fair"– looks like they may need one. And if you looked at this cover and thought 'Wow, how New York Post of them!', the Herald is also owned by Rupert Murdoch.
Do you see something wrong with this cover? Vote in our poll below!
Have a tip we should know? tips@mediaite.com