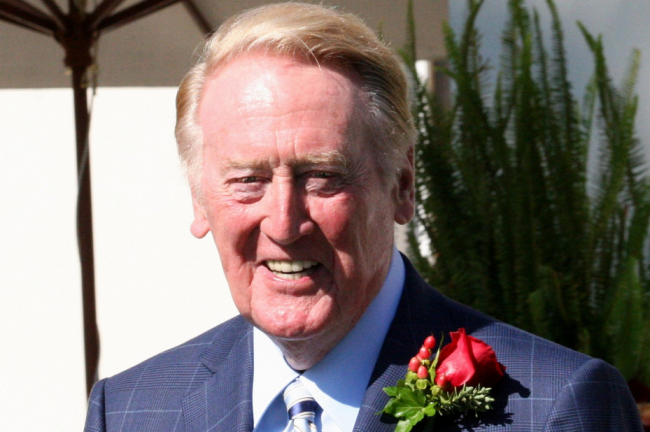 Baseball Hall of Famer Sandy Koufax famously said, "I enjoy listening to Vin Scully call a game more than playing in them". The iconic voice of the Los Angeles Dodgers since 1950 will miss the team's playoff run, which begins Friday night against the New York Mets.
The Dodgers organization announced Thursday that the 87-year-old Scully will not be calling the postseason games due to an unspecific medical procedure. The Dodgers finished in first place in the NL West with a 92-70 record.
Scully, a New York native who first joined the organization when it played at Ebbets Field in Brooklyn, missed some of the games towards the end of the team's regular season due to an unclassified illness. Although the Dodgers noted that Scully is "resting comfortably," no other information was immediately available.
The legendary sport broadcaster overlapped with Jackie Robinson's Dodgers career for six seasons, and first started calling Dodgers games with Red Barber.
Many members of the broadcast, media, and entertainment worlds took to Twitter to express their support and well wishes for Scully.
Best wishes go out to my friend Vin Scully. He is an amazing broadcaster & a great guy. Keep on keepin' on, Vin! cc: @Dodgers

— Larry King (@kingsthings) October 8, 2015
No Vin Scully? This fan is sad.

— Fred Willard (@Fred_Willard) October 8, 2015
"It may seem odd to feel such devotion to an octogenarian baseball announcer, but Vin Scully is a singular figure." http://t.co/q1wAOYSm6b

— NYT Magazine (@NYTmag) October 9, 2015
Vin Scully having medical procedure done, will miss all of 2015 #postseason. Pray for the guy. #Dodgers

— Maury Brown (@BizballMaury) October 8, 2015
Good thoughts-prayers-positive energy for Vin Scully! #VinScully #GetWellVinScully

— Steve Edwards (@SteveGDLA) October 8, 2015
We love you #VinScully – get better real soon! #Dodgers – Playoffs tomorrow!

— Natalia11 (@Natalia11) October 8, 2015
Prior to the end of the Dodgers regular season, Scully had announced his intentions to return to the organization next year in what will be his 67th season.
[image via Wikipedia Commons]
—
>> Following J.D. Durkin (@MediaiteJD) on Twitter
Have a tip we should know? tips@mediaite.com