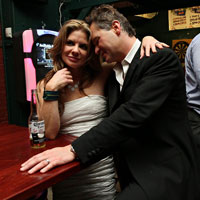 By now, you're likely familiar with the controversy swirling around The New York Times' "Vows" piece on WNBC TV reporter Carol Anne Riddell and her new husband, John Partilla. In the article, the couple shared details about their relationship of four years, including the tiny little obstacle that stood in the way of their burgeoning romance: Their former spouses. The couple was met with an angry backlash from readers, many of whom felt Riddell and Partilla were "selfish" and "shameless."
Now, Riddell's ex-husband, Bob Ennis, is speaking out to Forbes against the article, sharing that The New York Times made no attempt to contact him — or to ask permission to run a photograph of his seven-year-old daughter with Riddell. As far as Ennis is concerned, if it's in the media, it has the power to haunt his children forever and ever:
You could easily try to brush this off as a kind of self-evidence, a self-serving act by a couple of narcissistic people who for whatever reason have a need to try to persuade people, except for the fact that there are lots of children involved. These kids watch TV, they read newspapers a little bit and certainly they surf the internet.
Of interest to us is that Ennis' anger is not solely reserved for his ex-wife and, by extension, her new husband for their infidelity and willingness to share this infidelity with many, many hyper-judgmental strangers — he directs plenty of anger towards the paper itself for running the story in the first place, noting that "there's a difference between that and publishing a choreographed, self-serving piece of revisionist history for two people who are both members of the media industry."
Above all, he says, he's upset that the paper ran a photo of his young daughter without seeking permission or notifying him. He adds that he is currently trying to obtain a response from the Times about how, exactly, such a thing was allowed to happen.
Have a tip we should know? tips@mediaite.com