Chicago Assault Victim Robbed, Run Over by Cab While a Dozen Bystanders Do Nothing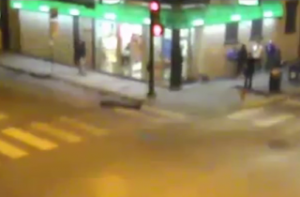 In a shocking video obtained and published by The Chicago Tribune Wednesday, bystanders rob and then ignore an unconscious assault victim in the two minutes before he was ran over and killed by a cab.
32-year-old Marques Gaines left a Chicago 7-Eleven in the early morning of February 7, when a man loitering outside the convenience store attacked him. Security footage from the store shows that the assailant picked a fight with another man immediately before attacking Gaines.
Gaines was knocked unconscious with a single punch and fell on the street. Footage obtained from city cameras by the Gaines family's attorneys shows that after he hit the ground, two men ran up and knelt down next to him… to rifle through his pockets and run away. The Gaines family says that his cell phone and debit cards were missing.
Watch below. (WARNING: GRAPHIC FOOTAGE)
After that a circle of bystanders forms around Gaines, but soon disperses without moving him out of harm's way. More bystanders walk past Gaines unconscious body without coming to his aid. Only one person, believed to be a 7-Eleven employee, called 911. In the end, a cab driver who didn't see Gaines pulls over to the side of the road, running over him and killing him.
Gaines' closest relative, his cousin Drexina Nelson, told the Tribune she was too devastated to watch the footage. "We as people, as humans, we should care for one another. Who leaves a person in the street for that long? That's devastating to me — the fact that he could have been saved. He could still be here with us," she said.
[Image via screengrab]
——
>>Follow Alex Griswold (@HashtagGriswold) on Twitter
Have a tip we should know? tips@mediaite.com