Chis Matthews' JFK Biography Is The Best Ever Written On The Subject … According To Chris Matthews
Chis Matthews' Book Is The Best JFK Bio Ever Written... According To Chris Matthews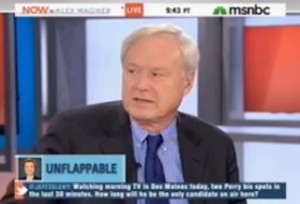 During an appearance on new MSNBC 12 noon offering Now with Alex Wagner, the newly-minted host turned to introduce guest panelist — and opinion media pioneer — Chris Matthews, who is not only an MSNBC stablemate, but also the author of a new JFK biography currently ranked third on the NY Times bestseller list. Wagner's introduction, however, appeared to come up short in Matthew's esteem, when she called his new book "one of the best" that's been written on the subject. Matthews quickly corrected her, declaring "it is actually the best book," adding for clarity "people who know their business say it's the best book."
Please allow me to interrupt this post to make something absolutely clear: I am a fan of Chris Matthews. I say this because I recently had the pleasure of meeting Mr. Matthews at an MSNBC hosted party in celebration of his new JFK biography, and immediately upon introducing myself, he looked like he had just seen a ghost and asked if I was "friendly." Yes I am friendly, but that doesn't mean that we cannot call 'em like we see 'em.
In fairness, Mediaite has, on numerous occasions, written critical observations of the public commentary of the Hardball host, in very much the same way that he will take issue with comments of politicians or others in the media. But Matthews appreciates the cardinal rule of television programming: never be boring. And while the viewer may not always be in agreement with Matthews' positions, he at least is consistently unpredictable. Please recall his public support of the George W. Bush presidency in 2000.
Now if you, dear reader, were unaware that Matthews had written a biography on JFK, it's likely because you aren't a regular viewer of MSNBC. A simple search of a television transcript database indicates that the books title, Jack Kennedy: Elusive Hero, has been mentioned on-air 120 times so far this month. But you know what? So what. Good for Chris Matthews for penning a smart and thoughtful book, and good on MSNBC for getting behind the literary efforts of their on-air talent.
Watch the brief exchange between Wagner and Matthews below, courtesy of MSNBC:
Have a tip we should know? tips@mediaite.com