Chris Hayes Explains Who Will–And Won't–Be On His MSNBC Show: 'I Don't Want Hacky Partisans'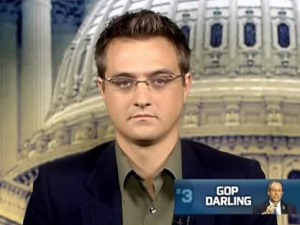 When the new weekend show hosted by Chris Hayes debuts on MSNBC September 17, expect a "cast of characters" but none of the usual suspects. Hayes tells New York his goal is to feature a regular panel of younger, more diverse group of contributors than other cable news shows. "I don't want hacky partisans," he says.
Hayes says the weekend show will be informal and allow him to "break out of genre conventions," which sounds interesting in a broken genre convention kind of way. He promises a combination of deep analysis and breaking news:
It's meant as a look at the week that was (Saturday) and the week that will be (Sunday), featuring panels of guests along with produced, explanatory segments that you might not find on the average weeknight cable news show. "What the Week in Review or Times Magazine or the Week is to Twitter and blogs, that's what we want to be to primetime cable news," Hayes said. "It's very hard when news breaks to have something distinct and value-added to say about it," he stated, and then hastened to add diplomatically that Maddow — for whom he frequently fills in — is "awe-inspiring" in her ability to do so daily. But the gridlock that's recently characterized the political process might actually help Hayes's ratings, or at least the breaking-news quotient of the show: "Increasingly, Congress and the president don't do things until the last minute," he said, a mixture of disillusioned and ever-so-slightly excited. "So stuff starts to happen on the weekends more and more."
New York also informs us Hayes has just finished a move from Washington to Brooklyn, he's working on a book, and he and his wife are expecting a baby in the fall. So he's got a full plate.
Have a tip we should know? tips@mediaite.com