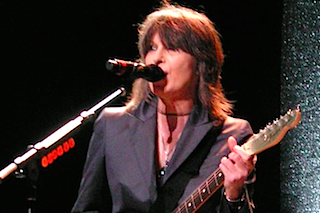 Chrissie Hyndes, the lead singer of The Pretenders, isn't backing down from comments made in an interview with The Sunday Times that seemingly blamed female rape victims for being raped in the first place.
Music journalists, the news media, and the Internet at large were none too pleased with the musician's inflammatory comments. Yet according to a new interview with the the Washington Post, Hyndes doesn't seem to think there's anything wrong with what she said about rape. In fact, she repeated her sentiments when pressed about the issue.
"Do I regret saying it? I don't know," Hyndes told the paper. "I haven't really thought about it."
The comments, from the previous Sunday Times interview promoting her new memoir, Reckless: My Life as a Pretender, summed up the singer's thoughts on rape: "You know if you don't want to entice a rapist, don't wear high heels so you can't run from him."
WaPo arts reporter Geoff Edgers read the passage in question to Hyndes, hoping to get a more detailed response from her. It worked, because once the musician recalled what it was that everybody was so angry about, she immediately bit back.
"Sounds like common sense," she said, adding that if her detractors didn't "want my opinion, don't ask me for it."
Like almost every other celebrity caught up in a scandal stemming from offhand comments, Hyndes then tried to turn the tables on Edgers and belittle the controversy by focusing on something else she deemed more important:
"At the moment, we're in one of the worst humanitarian crises in our lifetime," she said. You see that picture of "a Turkish policeman carrying the body of a 3-year-old boy who got washed up on the shore. These are the heartbreaking images we have and we're talking about millions of displaced persons and people whose families have been destroyed and we're talking about comments that I allegedly made about girls in their underwear."
Whether or not the verbal slight of hand remains to be seen, though let's be honest. This particular move by subjects whose words incite such a response aren't usually able to escape their original comments. Especially when those comments involve rape, as Donald Trump famously found out earlier this summer.
[h/t the Washington Post]
[Image via Wikimedia Commons]
— —
>> Follow Andrew Husband (@AndrewHusband) on Twitter
Have a tip we should know? [email protected]