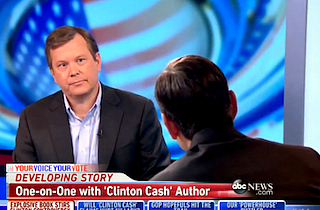 Kindle owners of Peter Schweizer's Clinton Cash got a notice Thursday that an updated version of the book was available — with a few minor/major factual corrections.
Schweizer's book caused a maelstrom of criticism over its allegations that foreign donors obtained favorable treatment from then-Secretary of State Hillary Clinton in exchange for multimillion dollar contributions to the Clinton Foundation.
Clinton surrogates were quick to attack both Schweizer, whom they called a discredited GOP operative, and his book, which they said was riddled with factual errors.
RELATED: Seth Meyers Calls Out Clinton Cash Author's Anti-Hillary 'Bias'
On this last part, Schweizer appears to have made some concessions. Politico has the full rundown of what Schweizer's publisher HarperCollins called "seven or eight" corrections. In one case Schweizer alleged gadabout-philanthropist Bill Clinton was paid for speeches by TD Bank in exchange for information on the Keystone Pipeline, but based his reporting on a "press release that was revealed to be fake in 2013." (That passage falls through a trap door in the updated version.)
More:
Schweizer also appears to have edited a passage in which he claims Bill Clinton was paid $200,000 per speech by Irish billionaire Denis O'Brien, for three speaking engagements he delivered in Ireland. The implication was while Hillary Clinton's State Department was giving O'Brien's company taxpayer money through the Haiti Mobile Money Initiative, "O'Brien was in turn making money for the Clintons."

But Clinton was not paid personally for those speeches, according to his spokesman. And the Clinton Foundation was paid for just one of the three speeches. The new version deletes any mention that Clinton was paid for those speeches, as well as a claim that Clinton received $225,000 for a speech in Jamaica sponsored in part by O'Brien's company Digicel. Another edit appears to have been made on the timing of a speech Clinton gave in Jamaica, which was also paid for by O'Brien.
"The changes that Amazon is referring to as significant are actually quite minor," HarperCollins said. "We made 7-8 factual corrections after the first printing and fixed a technical issue regarding the endnotes. This global fix may have made the changes appear more extensive than they were."
[h/t Politico]
[Image via screengrab]
——
>> Follow Evan McMurry (@evanmcmurry) on Twitter
Have a tip we should know? tips@mediaite.com