Clinton Emails Reveal Warnings from Amb. Stevens, Blumenthal Memo on YouTube Video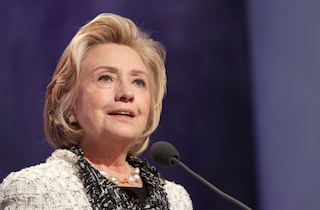 New York Times' Michael Schmidt, whose first revealed the existence of Hillary Clinton's private email account, got an advance look at a trove of Benghazi-related emails submitted to the House Benghazi Select Committee.
Schmidt reported Thursday morning that Clinton had a category termed "sensitive but unclassified," in which she discussed the Benghazi security situation during the 2011 turmoil in Libya. The emails also include Ambassador Chris Stevens' voicing concerns over the security situation in Libya 18 months before the attack on the American compound that left him and three other American officials dead.
Per Schmidt:
Mrs. Clinton's emails show that she had a special type of government information known as "sensitive but unclassified," or "SBU," in her account. That information included the whereabouts and travel plans of American officials in Libya as security there deteriorated during the uprising against the leadership of Col. Muammar el-Qaddafi in 2011. Nearly a year and a half before the attacks in Benghazi, Mr. Stevens, then an American envoy to the rebels, considered leaving Benghazi citing deteriorating security, according to an email to Mrs. Clinton marked "SBU."
It is unclear what security precautions Clinton took with her private email server, which would be presumably less secure than the State Department's.
According to Schmidt Clinton also forwarded emails from Sidney Blumenthal without attributing their source; Blumenthal was later criticized for passing off inaccurate information in a potential conflict of interest with both business interests in Libya and his role as a Clinton political ally.
One of Blumenthal's emails initially sourced the attack to a YouTube video, an email Clinton forwarded. A later memo contradicted this claim:
Citing "sensitive sources" in Libya, the memo provided extensive detail about the episode, saying that the siege had been set off by members of Ansar al-Shariah, the Libyan terrorist group. Those militants had ties to Al Qaeda, had planned the attacks for a month and had used a nearby protest as cover for the siege, the memo said. "We should get this around asap" Mrs. Clinton said in an email to Mr. Sullivan. "Will do," he responded. That information contradicted the Obama administration's narrative at the time about what had spawned the attacks. Republicans have said the administration misled the country about the attacks because it did not want to undermine the notion that President Obama, who was up for re-election, was winning the war on terrorism.
Blumenthal was subpoenaed by the Benghazi Committee earlier this week.
This is only the first tranche of emails; more are expected to be released by the State Department imminently.
[h/t New York Times]
[Image via JStone / Shutterstock.com]
——
>> Follow Evan McMurry (@evanmcmurry) on Twitter
Have a tip we should know? tips@mediaite.com