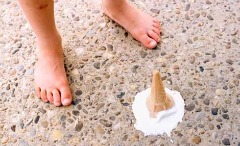 Cold Stone Creamery, the ice cream chain that makes me incredibly nervous because — while I do adore birthday cake-flavored ice cream — I do not enjoy it when people sing in my general direction, is upset with CNBC for a documentary aired by that network. The New York Post reports that the chain is threatening a suit because a documentary called Behind the Counter: The Untold Story of Franchising incorrectly depicted Cold Stone Creamery as "a cold-hearted firm that charges franchisees hidden expenses, relies on kickbacks from vendors and requires franchisees to purchase equipment from a company it controls."
Cold Stone's lawyer, Robert Zarco, says the documentary unfairly focused on one disgruntled former franchise owner who was embroiled in (and lost) a legal battle against the ice cream chain. Cold Stone declined to participate in the documentary and, according to a CNBC spokesperson, has yet to agree to an on-camera interview in order to discuss the allegations brought forth by this former franchisee — an interview which, the network says, would be included in future airings of the doc.
Kahala, the chain's parent company, explained its choice not to participate in the documentary series:
"…Darren Rovell approached Kahala with a clear agenda and bias. From the questions posed, it was clear CNBC had already determined to paint a negative picture of Cold Stone." The executives state that "participation in an on-camera interview came with inherent risk that CNBC could leave out full or partial answers or alter context to support a negative, one-sided piece."
The network, after editing the documentary to reflect the franchise owner's failed lawsuit, has decided to pull the episode for now. Chilling!
Have a tip we should know? tips@mediaite.com