College Newspaper Argues Pro-Trump Chalkings Not 'Valid Political Discourse'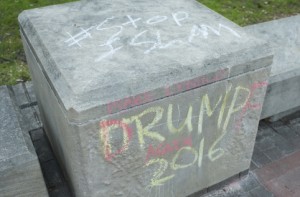 According to the editorial board of UC San Diego's student newspaper, a series of pro-Donald Trump statements that popped up around campus were not "valid political discourse" and the creators were ignorant about "what is actually protected under free speech."
At issue was a series of pro-Donald Trump chalkings that recently appeared on UCSD's campus reading "Tritons for Trump" and "Deport them all." The chalkings are part a national movement that angered students at Emory and the University of Kansas. Students at the University of Michigan even called the police over "Donald Trump 2016" messages that popped up on campus.
"Defense of Anonymous Xenophobic and Racist Statements as 'Political' Tarnishes First Amendment," argued the campus newspaper The UCSD Guardian in an op-ed. "One [chalker] was… recorded commenting that the purpose of the statements was to make the students of a liberal campus be made aware of conservative political viewpoints," they wrote. "But this convenient distortion of their argument into a matter of free speech reflects an ignorance as to what is actually protected under free speech."
"This blatant attempt at antagonizing individuals, masked as political discourse, is not valid political discourse and should not be recognized as such," the paper argued.
Despite that strong statement, the op-ed seems to waffle on whether or not the pro-Trump chalkings were actually covered by free speech. "While it is true that the First Amendment prevents Congress — and, in recent years, public institutions — from punishing or preventing free speech, it does not protect these individuals from private retaliation…" the next paragraph reads.
But then it concludes: "As long as those partaking in campus chalkings rely solely on xenophobia and racism to make their statements, as long as they refrain from putting forth political reasons for endorsement and as long as they remain anonymous, such statements fail to exhibit free speech and instead tarnish it."
[Image via screengrab]
——
>>Follow Alex Griswold (@HashtagGriswold) on Twitter
Have a tip we should know? tips@mediaite.com