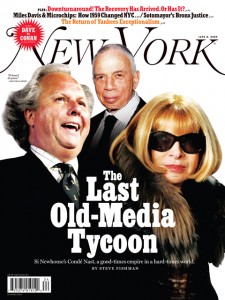 I was recently riding in a cab across town when I noticed an item in the NBC news ticker that seemed a little less accessible than the rest. "End of an Era at Conde Nast…" it read, no accent. I pictured a tourist wondering what the hell it meant, and not caring much. That this made it into a general interest news feed for taxi riders showed, I thought, the inflated regard in which media elites hold insidery media stories. There are a lot of eras ending in this recessionary year; some just get more ink.
Everyone who does care knows that Condé Nast is in some trouble. But given how little substantiation there has been as to the scope of that trouble, there's been quite a lot of writing about it, often taking on tut-tutting moralistic tones. Why do media watchers so love to pile on Condé?
First, a roundup of what we know: McKinsey audited the company. The figure "25% cuts" has been floated. Condé may or may not shutter some titles. The New York Observer's John Koblin reports that whatever layoffs are made will have to be made by the end of January, although "it appears, at least for the moment, there isn't any organized game plan at Condé Nast to adopt" a 'rip-the-band-aid-off' strategy of mass layoffs. It amounts to something, but does it justify the sweeping end-of-an-era trend pieces?
Gawker, to its credit, has been consistent in its Condé-bashing from the start, in keeping with its "creative underclass" ethos. But they're at least self-aware as to why. As Hamilton Nolan wrote on Monday: "Of course the creative underclass loves to hate on the creative overclass—embodied by Conde Nast—in public. But in private, everyone wants to get to Conde Nast. Or at least a Conde Nast expense account. Well, give up the dream, kids."
A recent Times piece by Stephanie Clifford hits the nail squarely on the head with one loaded paragraph at the end of a litany of Condéisms:
[C]ost-cutting at Condé Nast is not quite like cost-cutting at other publishers. For example, on Oct. 13, the men's magazine GQ will host a party in Washington to promote its list of powerful capital players, to appear in its November issue. The party is upscale: it will be held at the 701 Restaurant, known for its caviar and live piano music.

That is not the only expense involved. Several editorial employees will travel from New York for the evening. And they received an e-mail message recently reminding them to limit their expenses for the night — to $1,000 a person.

That culture of spending at Condé Nast explains some of the fascination with the place, which incites a mix of envy and scorn among employees at other magazines. Condé Nast's top editors and publishers have drivers on call, staff members can be reimbursed for $15 a day for lunches they order in, and even freelance writers stay at hotels like the W when they are on assignment.

Those perks would be unremarkable at any investment bank or law firm, at least before the recession. But magazine companies other than Condé Nast have become grim places to work in recent years. (emphasis added)
Yes, Condé had some extravagant perks before 2009, but as Clifford points out, so did a good chunk of the New York economy. Media types are better aware that publishing has been a grim place of late, due to a steep ad recession and a shift in the way people consume information. But the disproportionate amount of Condé hate has deeper roots than that.
The biggest story in all of this isn't the death of Condé Nast — which, 25% cuts or no, will continue to be a dominant force in the publishing industry — but the death of the myth of Condé Nast, which will leave the media covering media with a want of things to cover.
Have a tip we should know? tips@mediaite.com