Conservative Columnist Disinvited From Campus Just in Case Someone is Offended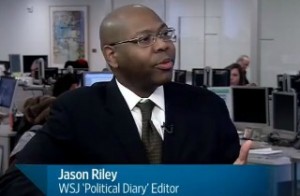 Wall Street Journal columnist Jason Riley revealed in his column that he had been disinvited from giving a lecture at Virginia Tech because faculty were concerned that his presence could hypothetically cause protests.
"Last month I was invited by a professor to speak at Virginia Tech in the fall. Last week, the same professor reluctantly rescinded the invitation, citing concerns from his department head and other faculty members that my writings on race in The Wall Street Journal would spark protests," he wrote Monday.
Riley, who is himself black, typically takes a conservative stances on racial topics. In the past year, he has been highly critical of the Black Lives Matter movement and argued that the police shooting of Michael Brown was justified. His most recent book is entitled Please Stop Helping Us: How Liberals Make It Harder for Blacks to Succeed.
"I have been writing about racial and various other issues in the Journal for more than two decades and lecturing at colleges for almost as long…" he points out. "Typically, I'm invited to offer an alternative perspective on an issue—to expose students to a way of thinking that they are unlikely to experience from, say, the 25% of sociology professors who also happen to identify as Marxists."
"In April, I spoke at the University of North Carolina at Chapel Hill, where the college Republicans who invited me took the precaution of clearing my name with liberal student groups 'to make sure they wouldn't be upset,'" he recalled. "We've reached a point where conservatives must have their campus speakers preapproved by left-wing pressure groups. If progressives aren't already in absolute control of academia, they're pretty close."
[Image via screengrab]
——
>>Follow Alex Griswold (@HashtagGriswold) on Twitter
Have a tip we should know? tips@mediaite.com