Controversial Columnist Retracts Interview in Which Weinstein Claims Everyone Trades Sex in Hollywood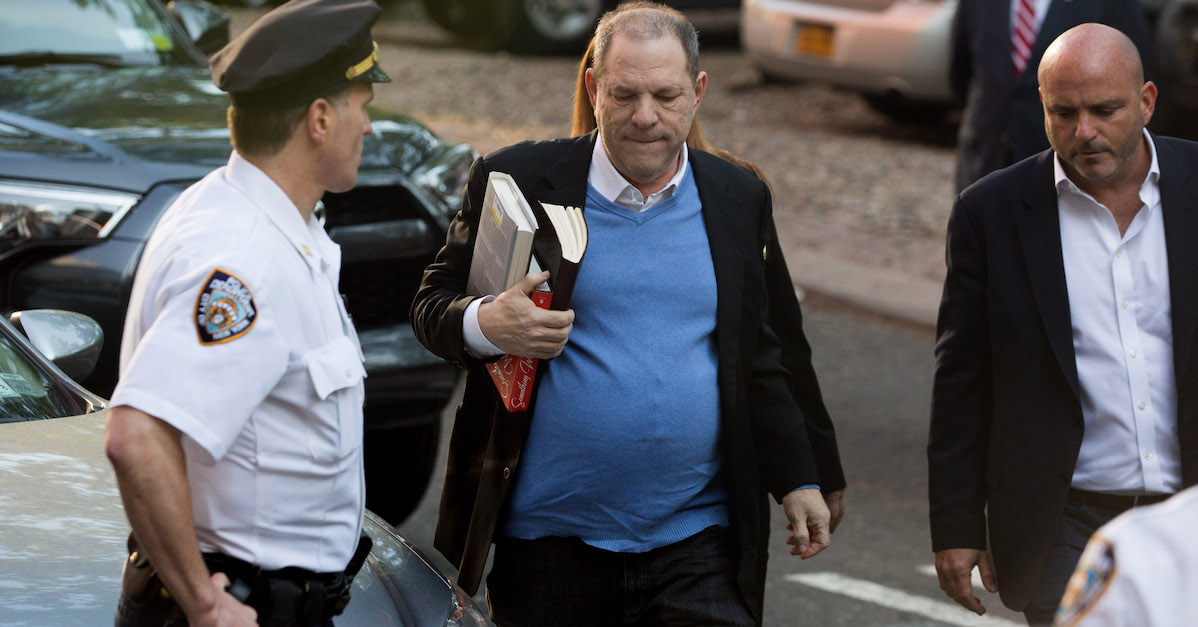 Harvey Weinstein emerged from the shadows of disgrace with a big splashy interview and he decided the person to write his comeback story was… Taki!
Or… according to Taki that is. The interview was published and retracted within hours on Friday after Weinstein's lawyer complained that the interview was not an interview, but a "social visit."
A little background on Taki: he's an aging bon vivant, a Greek aristocrat, whose High Life column for British mag The Spectator has produced eloquent (and often borderline racist-cum-antisemitic) musings for more than four decades.
He's also apparently pals with Weinstein, the disgraced Hollywood producer who has been accused by dozens of women of everything from rape to sexual harassment. Weinstein was recently charged with rape and other counts of sexual abuse in New York.
Taki's latest column explains that Weinstein reached out to him to talk about a "world exclusive," and the two met at the producer's Manhattan office to discuss it. Turns out, according to Taki, the story was a hot Weinstein "take" on two of his accusers, Rose McGowan and Asia Argento.
During their meeting — for which Weinstein's lawyer Ben Brafman was present — Weinstein also dropped some insane quotes, namely:
"You were born rich and privileged and you were handsome," Weinstein apparently told Taki. "I was born poor, ugly, Jewish and had to fight all my life to get somewhere. You got lotsa girls, no girl looked at me until I made it big in Hollywood. Yes, I did offer them acting jobs in exchange for sex, but so did and still does everyone. But I never, ever forced myself on a single woman."
Good to hear, Harvey.
Now, apparently, it turns out that was all made up. Weinstein's lawyer Brafman told the Hollywood Reporter that his client was misquoted, and Taki "retracted" his interview.
"I was present for the conversation; it was not an interview, but a social meeting between old friends," Brafman told THR. "Harvey and Taki did not discuss the case, nor would I allow him to. They talked about old Hollywood and the contrast to European culture, and I think Taki sees Harvey in that older light. Mr. Weinstein never said anything about trading movie roles for sexual favors. You have my word that Harvey did not say that."
Taki himself issued a statement claiming he had "misrepresented" Weinstein's comments. Curiously, the interview remains up on Spectator.co.uk, with no note about any "retraction."
"After 41 years as a Spectator columnist without a single retraction, I believe that I may have misrepresented Harvey Weinstein's conversation with me in New York last month," Taki said. "It was my mistake. We were discussing Hollywood and I may have misunderstood certain things about the methods of that place. I had nothing to do with the headline of my article and I hope I have not damaged his case. It was, after all, a social visit."
Read the THR story here.
(Photo by Kevin Hagen/Getty Images)
—
Follow Aidan McLaughlin (@aidnmclaughlin) on Twitter
Have a tip we should know? tips@mediaite.com
Aidan McLaughlin - Editor in Chief