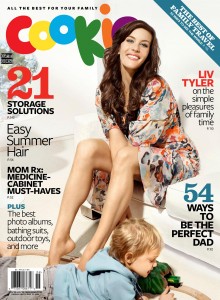 Cookie magazine sits in a place of honor on my wife's bedside table. At work, I heard that Condé Nast announced the closure of Cookie today, so as I settled in for my afternoon nap, I picked up the most recent edition for a quick flip-through. An article with 39 family vacation ideas caught my eye.  So did one featuring a twist on pot roast that's interesting enough for grownups without being too sophisticated for my kids.
I'm clearly not the target demographic for Cookie magazine. But my wife has been a subscriber for most of its four years in existence, and I've come to appreciate it as the one "parenting" (read: "mommy") magazine that I read regularly.
And now it's gone.
Granted, the niche is far from deserted. There are other parenting titles and a million mommy blogs. But I know I'm not the type of person to scroll through millions of blog posts looking for a kid-friendly pot roast recipe. And I never thought I'd have to be. But that was before the day when a well-edited and profitable magazine could disappear overnight.
Gourmet, Modern Bride and Elegant Bride are the other victims today's Condé Nast's cost-cutting measures. All have loyal readers, target specific audiences and have proved the mettle. But in today's uncertain media landscape that's not enough. At least, McKinsey & Company, who spent the last three months analyzing the books at Condé Nast, doesn't seem to think so. Shuttering magazines is an effective solution to the company's budget crisis for the short term. But it doesn't allay the disturbing trend I see stretching across the landscape of traditional media.
Two unprofitable models deliver the majority of content on the Internet: Either newspapers and magazines give away their online content for free because they still make (some) money with their print business. Or online content providers — YouTube and the Daily Beast come to mind — bank on the fact that they will still be alive on the day when somebody figures out how to monetize their readership.
Neither scenario inspires a lot of confidence. And I don't have a third option to propose to resuscitate the industry. But I'm pretty sure that trading one bad idea for another one still doesn't equal a good one.
After I downloaded the New York Times article about Cookie (for free), I sent it along to my wife. Dawn responded: "Where will I get cool family trip ideas?"
Exactly.
For me, the great allure of the traditional magazine and newspaper format is not finding the story I am looking for, but rather stumbling upon something I didn't expect to find. Take the example of my favorite story this week on Pat's Papers: Would I ever type "Wisconsin tourism board changes acronym from WTF to avoid snickers" into the search bar of Google? No. But did it delight me to find the hilarious story under that headline while reading the day's front pages? Absolutely.
One of the reasons I'm happy to pay for a magazine is because it covers the salaries of a team of editors and reporters who search out the most interesting content.
My wife will undoubtedly find something else to put on her nightstand now that Cookie is gone. And I'll find something else to flip through before my afternoon nap. After all, there are thousands of kid-approved recipes and cool family trip ideas somewhere out there on the web. But without the filter of a magazine, it may be a while before my kids get a pot roast for dinner.
Have a tip we should know? tips@mediaite.com