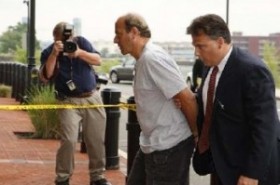 A rabbi, two mayors, an organ donor, and a developer walk into a diner…
It sounds like the start of a bad joke but it was all part of another dark day for a state notorious for political corruption. It was also a day that gave the best in the Garden State a chance to show off their journalistic chops.
The Asbury Park Press did it with long-form traditional columns while the Star-Ledger's breaking news blog showed an old media dog can learn new tricks. As the story broke – a sprawling case of political corruption implicating Three Jersey mayors, a deputy mayor, two assemblymen, a council president, and a bunch of candidates, political functionaries and local rabbis – the state and local media were all over it.
Joe Ryan at the The Star-Ledger blog broke the news this morning at 7:43 a.m. as the FBI began rounding up the 44 people invovled in a wide-reaching money laundering case that had been in the works for two years. The Ledger's Robert Scrianno had the first images and video of Hoboken mayor Peter Cammarano and Secaucus mayor Dennis Elwell being taken in handcuffs into the FBI headquarters in Newark, NJ.
The Jersey City Independent has been doing such a good job covering the corruption as well. They broke the story that Jersey City's mayor was named in the criminal complaints which was subsequently picked up by Politicker and Fox 5 News in New York.
Ted Sherman at The Star-Ledger revealed how Solomon Dwek, a real estate developer, turned federal witness after trying to defraud a bank of $50 million dollars. Jean Mikle of The Asbury Park Press did a full exposé on Dwek, going into great detail about his fall and how that led him to help Feds bring down the top officials of two of the biggest cities in New Jersey.
The investigation dug up an international money laundering network involving Syrian Jewish communities in Deal and across the Hudson into Brooklyn. The Rabbis helped launder the money gathered from bribes taken by politicians and kept a cut for themselves. As if the details of the case were not outrageous enough already, it was discovered that one of the Brooklyn rabbis was accused of trying to broker a $160,000 deal for a kidney.
Here's a list of the (known) bribes made to key politicians, according to federal authorities:
— Hoboken Mayor Peter Cammarano $25,000
— Assemblyman L. Harvey Smith (D-Hudson) $15,000
— Jersey City Deputy Mayor Leona Beldini $20,000 (in campaign contributions)
— Secaucus Mayor Dennis Elwell $10,000
— Ridgefield Mayor Anthony Suarez $10,000
— Assemblyman Daniel Van Pelt (R-Ocean) $10,000
Note that this list doesn't even include the word "kidney." Who knows what else will be uncovered. In the meantime, it was the New Jersey papers who connected the dots between the rabbis, the mayors, the launderers, and the black market organ dealers. They deserve a lot of praise for being fast, accurate, and comprehensive.
We are in an age where Twitter, blogs and social networks are the gateway by which breaking news gets distributed, but in this case, traditional news outlets won the day – not just for accurate reporting in real time of a complicated and quickly-moving story, but having the resources and institutional knowlege to put it all in context and connect those all-important dots. Yesterday, the New Jersey press lived up to the highest standard of journalism: they were reliable, and they were credible. In this age of insta-media, let's not forget how much that matters.
Related:
Following the N.J. corruption money trail: Money laundering splintered into political probe [NJ.com]
Full Star-Ledger coverage of the New Jersey corruption arrests [NJ Star-Ledger]
**See also this extensive photo gallery of arrests and perp walks
Anthony De Rosa is a veteran blogger who has been developing and providing consulting for new media since 1996. He posts his opinions on a variety of topics, social media and politics in particular, at soupsoup.tumblr.com.
Have a tip we should know? tips@mediaite.com