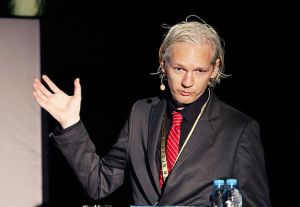 April 11: That's the day that WikiLeaks front man Julian Assange's memoir will be unleashed onto the public. Assange previously said he's writing the book not because he wants to, but because he needs the money to pay for his mounting legal costs and to keep WikiLeaks up and running. And, with $1.5 million coming his way, he may be able to do just that.
In addition to the U.S. and the U.K, Assange's book will likely also be published in Italy, Germany, France, Australia, Spain, Catalonia, Holland, Portugal, Brazil, Norway, and, yes, Sweden.
But why the rush? The Wrap, for one, has a few guesses:
I understand a publisher for wanting to strike while the WikiIron is hot, but it sounds like they're a bit anxious to get this book out. Perhaps they fear Assange may go to ultimately go to prison, or back into hiding.
…Which makes sense.
What we're wondering is to what extent Assange will delve into his personal life rather than on WikiLeaks as an organization. A release from his UK-based publisher makes it seem like it'll focus more on the organization rather than the enigmatic and polarizing man behind it, and touch upon his personal life as it relates to his project and personal agenda:
In this revelatory account, Assange expands on the philosophies that underpin his stateless, ground-breaking media company. He draws on his own fascinating life story and offers compelling insights into the mercurial and highly driven man who has forced us to radically rethink such basic ideas as transparency, democracy and power.
Adds Assange:
I hope this book will become one of the unifying documents of our generation. In this highly personal work, I explain our global struggle to force a new relationship between the people and their governments
Have a tip we should know? tips@mediaite.com