COVER WARS: Blonde On Blonde On Blonde… Taylor Swift, Cate Blanchett and Blake Lively Bring Snow
We know they have more fun, but do they make better cover stars? That's the impression you'd get from a cursory glance at the magazine rack this month, where nearly all of the premiere women's titles are represented by becoming tow-headed ladies. Sure, it sounds like a common enough occurrence, but the visual homogeneity this month is almost disorienting! There's blonde of the year Taylor Swift on InStyle, Gossip Girl's Blake Lively showing skin on Marie Claire, a refined Cate Blanchett in a gown for Vogue and Sarah Jessica Parker gone lighter, front and center for Elle. But only one can be the best blonde! This is Cover Wars…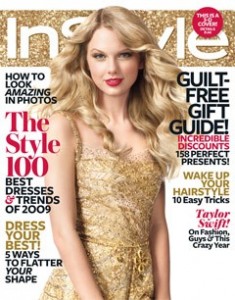 The December issue of InStyle is a special one. Not only does it star America's Sweetheart Taylor Swift in full holiday mode, but it also features the most recent magazine savior Augmented Reality. That's right — if you can troubleshoot your way around the technical difficulties, Swift will pop off of the magazine cover, with the help of your computer camera, and welcome you to the future.
Mediaite Grade (B-): Though there's no denying T.Swift's unshakable charm — demonstrated through a year's worth of pop hits, live performances, award wins and even a hosting gig on Saturday Night Live — InStyle sells the teen a bit short with such a glittery cover. Matching her dress to her hair to the banner background to the headline color? It's gold overload in any number of dimensions.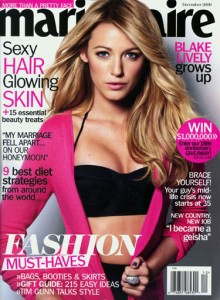 The latest Marie Claire is certainly the sexiest cover in this battle, featuring Serena of the Upper East Side gone even bustier, clad in hot pink and black. With a slight pout and clenched fist, Lively "grows up" — or so the headline indicates — moving from teen star to woman. In that sense, her Marie Claire appearance makes sense as an appropriate stepping stone.
Mediaite Grade (B): Though it's not exactly screaming purity, the Lively cover does manage to jump off of the shelf, thanks in part to the sharp color scheme and aggressive headlines. The other part in that equation, of course, is the cover star. In this instance, Lively embraces the bombshell archetype with a young sartorial edge, seductive stare and windblown mane of shiny blonde hair. Growing up and owning it.

>>>NEXT: Cate Blanchett, Sarah Jessica Parker and a special blonde surprise guest!
Have a tip we should know? tips@mediaite.com