As the decade we've dubbed The Aughts winds to a close, many magazines are celebrating with giant interactive features that attempt to encapsulate ten years of tragedy, victory, controversy and beyond. Newsweek, for example, has dedicated an entire website to The Decade In Rewind and endless content flows, from videos to think-pieces. Mediaite, too, has a section designated for The Aughts. It's an exciting time, and the nostalgia washes over us all.
But to praise (or denounce, right Time?) the end of the decade with a magazine cover is truly a special sort of honor — and oddly enough, it's rare. So far, not too many titles have given the early 2000s the newsstand treatment, so we figured for the final edition of Cover Wars this year (and this decade!), we would celebrate those commemorating The Aughts. That means New York vs. Time vs. Rolling Stone vs. New York. See below for the winner, and as for Cover Wars, see you next year!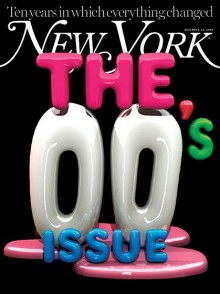 For their '00s cover, New York held a contest, inviting a group of graphic designers to try their hand at illustrating the double-zeroes. The results, which can be seen in this slideshow, range from hand-drawn to tactile to totally digital — and in the case of my personal favorite, the historical. To the left was the selected newsstand cover, while on the next page is the subscribers' edition.
Mediaite Grade (B-): For the cover most people will see — and hopefully be drawn to enough to purchase — New York could've been more provocative. Though the digi-balloons and black background are sleek, they fail to elicit any decade-specific memories or feelings, rendering the final product a tad dull. Perhaps the cover would be more successful had we heard the artist's intent or the mag's decision process.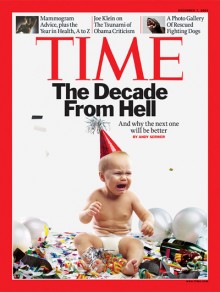 Time's version of the farewell to the decade cover is a surprisingly sardonic take for the newsweekly, as they dub it "The Decade From Hell," but with a silver lining sub-head: "And why the next one will be better." Good riddance, they seem to be saying, but here's our optimism, too. But the crying baby in the party hat is a bit Glenn Beck, no?
Mediaite Grade (B+): The edge they're showing with the sharp headline is admirable and works when it comes to standing out on the newsstand, but the accompanying graphic feels a little bit chintzy, or not campy enough. It occupies an odd middle ground of gravity and humor that might have been tipped to one side or the other, say, by cutting down on the party decorations or putting the baby in a broken pair of those '00 glasses…
>>>NEXT: Rolling Stone and New York's Take Two!
Have a tip we should know? tips@mediaite.com