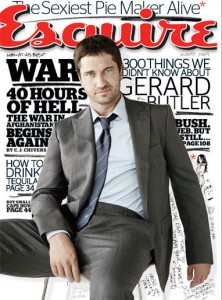 Part bathroom stall graffiti, part scribbled-on cocktail napkin wadded up in our pants: We wouldn't say that Esquire covers are in a league of their own, but they certainly do their own thing. The design is playfully masculine and the text demands careful examination (even if we're just sitting on the can or digging things out of our pockets on laundry day).  
Mediaite Grade (B): The August cover with Gerard Butler, of King Leonidas 300 fame, might not be an eye-catcher, but it is certainly classic Esquire. For one the shallow depth of field, his soft knee in the foreground, is something fresh, but the scrawl around his left arm and fingers goes to far. Photoshop has its limits, and here Butler's arm looks like it's been stapled on. Everything in moderation, Esquire.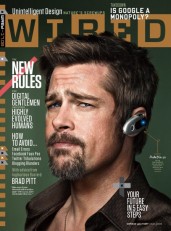 Wired might not be a men's mag per se, although the staff might like to think they can steal readers — smarter, dorkier readers — away from the likes of GQ and Esquire. And when was the last time we saw a male celeb's portrait on the cover? Not since Steve Carell last May, unless you'd call Microsoft's Roy Ozzie a celeb. But then again, if you're reading Wired you probably would.
Mediaite Grade (A): Wired beats the men's mag pack at its own game this week. Something about Brad Pitt sweating bullets with a Bluetooth headset is hilarious (very Chad Feldheimer meets Rusty Ryan). Better yet we might actually want to read "The New Rules for Digital Gentleman and other Highly Evolved Humans" because, you know, we've always wondered if it's cool to text while we're using the urinal.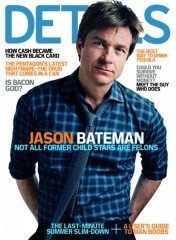 We feel the same way about Jason Bateman as we feel about Details magazine. We love some of their past works, but at times they can be a bit — how should we say — less than edgy? Arrested Developement was genius, as was Details feature on Mandingo Swinger Parties from 2007.  That said,  Forgetting Sarah Marshall (2008), Hancock (2008) and even Juno (2007) were a little ho-hum. And Details' last couple of covers — Bradley Cooper, Eric Bana and A-Rod — have been, well, flat. More like Eric Banal and A-Nod — AM I RIGHT?!
Mediaite Grade (B+): The August cover could have been a big boring disaster, but the deck "Not All Former Child Stars are Felons" takes care of that. Plus, we want his tie. So maybe the Jason Bateman cover story is no Mandingo Swinger Party, but we might pick it up instead of GQ.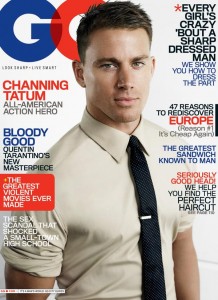 We don't mean to hate, but when did GQ get so fratty? We're not sure we want to read about "The Greatest Violent Movies Ever Made";  or "The Greatest Sandwich Known to Man"; and definitely not "Every Girl's Crazy 'Bout A Sharp Dressed Man." Not to mention that Channing Tatum — Mr. G.I. Joe: The Rise of Cobra (2009) himself — isn't exactly helping GQ's case.
Mediaite Grade (C+): If we wanted to read about shoot 'em ups and sandwiches we would have reached for Maxim. And putting a former Abercrombie model on the cover make is not enough to be a men's fashion magazine. Never fear, GQ, you'll get us next time.
COVER WARS WINNER: Ever the dark horse in the world of men's magazines — or should we say 'magazines that men might like to read' — Wired won us over this month with its brains and good looks. We're always looking for something a little smarter to read, especially if photos of Brad Pitt eating donuts over his keyboard are involved. But maybe we'll just keep that our little secret…
Have a tip we should know? [email protected]