Women's fashion magazine covers typically fall somewhere between sexy and sophisticated. But finding a spot on that continuum for your cover girl is a little bit trickier when she is still counting the days until her 20th birthday.
This month, women's fashion mags across the globe dipped into the young, supple crop of up-and-comers. Will putting tarted-up teens on the cover help attract younger readers? (Any readers at all?) Or will this month's covers just fall flat and lose their way?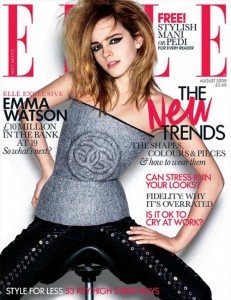 Maybe Emma Watson looks like she's getting ready to audition for the part of kinky tinman in some indie Wiz remake on the cover of UK Elle. But underneath all that eye-liner lurks outspoken, bookish Hermione. Actually it took us a double-take to recognize her. Maybe that's the idea?
Mediaite Grade (B+): We're a little uneasy about seeing 19-year-old Emma wearing something called silk and metal trousers, and the wool corset can't be conformable. Somehow her get-up remains modest (at least as far as visible flesh is concerned); there's a tinge of elegance somewhere on this cover. We'll try to overlook the glimmering leather stool underscoring her widespread legs.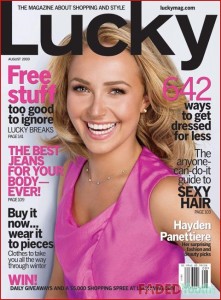 Hayden Panettiere, 19, weighs in on the dress she's wearing on the cover of Lucky: "The shape is conservative, but the shade is totally fun." OMG, totally.
Mediaite Grade (C-): Inside this issue, Lucky touts Hayden's "Playfully sophisticated, totally age-appropriate look." Props to Hayden for keeping it classy on the cover, but the result is pretty boring. Nothing against her, but so far Ben & Jerry's is the only company that has figured out how to sell vanilla.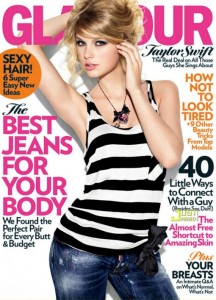 Between the trippy black and white stripes on Taylor Swift's shirt and trompe l'oeil play between her arm and the banner, we're too dizzy to read the August cover of Glamour.
Mediaite Grade (C+): There's something to be said for having a mesmerizing (albeit stomach-churning) cover: Readers will want to get inside the magazine as fast as possible. Or in the case of this month's Glamour — "40 Little Ways to Connect With a Guy (Besides Sex, Duh!)," "Plus, Your Breasts: An Intimate Q&A on What's Normal, What's Not"  — they'll just put their head between their legs until the spinning stops.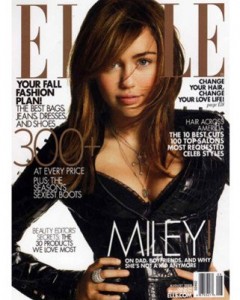 On the cover of Elle at 16, Miley Cyrus is the youngest of the August flock of teeny covergirls. She also takes the cake for most seductive gaze and the deepest cleavage (notice the cross necklace… JC would be so proud). Believe it or not, Subscribers saw something even bawdier. Or was it artsier?
Mediaite Grade (C): We've been over this before (hi, Rolling Stone!): Writing decks like "On Dad, Boyfriends, and Why She's Not a Kid Anymore" won't fool anybody that your covergirl (or boy) is old enough to be taken seriously, and in this case it just draws attention to how ridiculous Miley looks. (And to be fair, Elle is also guilty of the same nauseating banner play).
COVER WARS WINNER: We hate to let the Cover Wars crown leave the country, but we have to give this one to UK Elle. C'mon, the other covers were sooo bad. And, after all, the British are just better than us at pulling off the whole prim-sexy-sophisticated-steamy look — exactly the sensibility you need when you're talking about dressing up girls in women's clothes and making them sexy enough to sell.
Have a tip we should know? tips@mediaite.com