With this weekend's release of New Moon — and Bella, Jacob and Edward again invading the magazine racks — we invite you to look back on the Twilight magazine covers of months past. Now, the field is much more crowded. Feel free to recommend your new favorite Twilight covers in the comments.
You won't believe this: it has only been one year since the live action stars of teen vampire sensation Twilight infiltrated popular culture. And part of the reason they seem like such fixtures of celebrity already — apart from their impossible good looks, effortless cool and high-powered marketing machine — is their presence in print and command of their image. Flattering pictures may not be hard to come by when you're young and playing magical characters, but from this charming Vanity Fair spread to the endless tabloid fabrications, the kids always come out looking all right.
With this weekend's release of the latest entry in "The Twilight Saga:" New Moon, it's safe to say a new publicity blitz is upon us. Until now, stars Kristen Stewart and Robert Pattinson have been the face of the group, but upcoming covers have been confirmed including new heartthrob Taylor Lautner (who plays Jacob) on Rolling Stone and a cast photo for Entertainment Weekly, but as you'll see below, newsstands are already bleeding Twilight blood. Does the cast work best as an ensemble or do they have the star power to go out solo? In this edition of Cover Wars, we remember the classic covers from the Twilight franchise, knowing full well that many more are now in print. We'll call it The Greatest Twilight Cover So Far. Here are the contenders: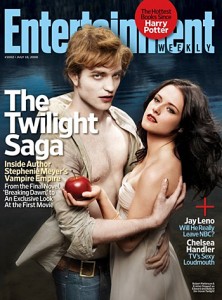 Their debut cover, a July 2008 issue of Entertainment Weekly, was initially met with derision by the Twilight faithful, weary of seeing their favorite book series come to life. "That's Edward?" they thought. But it might have been the final note of dissent — that, or the haters were drowned out by the screaming droves who quickly fell in love. The photo is cheesy, to be sure, but something about it made certain that it was the first of many.
Mediaite Grade (B-): The pale skin is too white. His sandy blonde hair seems off. An apple insinuates an incorrect fairy tale. The pair looks uncomfortable together, not drawn together by irresistible passion. And yet… maybe only in retrospect, but the B-movie feel of the cover is an apt introduction to the campy film, all glittery torsos and vampire baseball. And for Kirsten and Rob, it was the beginning of a beautiful friendship…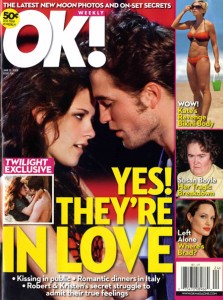 Are they the hip young versions of Brad Pitt and Angelina Jolie? Probably — at least in the sense that their tabloid covers seem endless. Every time you step into the checkout line at a grocery store Stewart's big bored eyes and Pattison's glare are staring back at you, and in that sense, this OK! cover represents a much larger canon of tabloid Twilight. They're as interchangeable as they are ubiquitous.
Mediaite Grade (C-): If you're a fan of the celebrity romance, this is an easy one to buy into. It's vague enough to be mysterious and picturesque enough to make for enjoyable covers. But that doesn't mean it's not dishonest. For instance, this issue of OK! uses a staged award show still with the headline "Yes! They're in love." And that's to say nothing of "Obsessed With Each Other" or "Twilight Fight!" or… "Engaged!" Yikes.
>>>NEXT: Kristen and Rob Go Solo!
Have a tip we should know? tips@mediaite.com