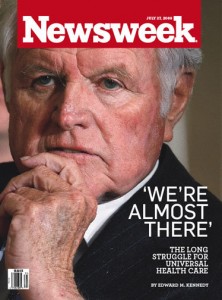 After three months, NYO's John Koblin points out that Bonnie Siegler's redesign of Newsweek has yet to start flying off the newsstand. Koblin writes:
Newsweek sold an average of 66,702 copies off the newsstand in its first six weeks since the redesign versus the 66,533 issues that it averaged for the previous 18 issues in 2009, according to the Audit Bureau of Circulations' Rapid Report.

More troubling, in the last four weeks that numbers are available, the magazine's sales slid each week from 85,000 copies sold to 75,000 to 67,100 to 50,000. The ABC numbers are available through its June 29 issue.
Now, while the new look has not been without its critics (ourselves included), it is too soon to call the new look a failure, especially if one were to base such an indictment on the newsstand numbers. For starters, newsstand sales provide a one-dimensional view of the redesign's success. Ad pages, online traffic and buzz must be considered too, especially when the redesign — which came in tandem with a new look to Newsweek.com — is largely aimed at engendering a new relationship between the print and online editions.
The redesigned Newsweek deserves credit for taking risks with its new look in print and online, searching out a way to present content on both platforms that isn't informed by the vestigial trappings of the old Newsweek — the magazine readers have practice reading (and probably feel more comfortable buying).
That said, we have to wonder how much sheer muscle memory affects the numbers: If Newsweek is behind where it was last year, maybe readers are still learning to interact and get the most out of the new magazine. How often are we turned off by a redesign simply because we have to learn to navigate a new arrangement of the content, familiarize ourselves with new serial features and get used to reading pages that look different?
Newsweek seems to be comfortable with this lag, especially given larger market trends. This wasn't presented as a frantic redesign to save the magazine, but more as a re-imagining and repositioning — hence the lowering of Newsweek's guaranteed circulation from 2.6 million to 1.9 million with the redesign. Newsweek will drop the rate base even lower in January 2010, to 1.5 million. Meanwhile the price of the magazine jumped to $5.95.
Following the redesign, assistant managing editor Kathleen Deveneny explained some of the choices behind the new look: "We will focus on a smaller, more devoted, slightly more affluent audience. Over time, we will increase subscription prices."
Finding a new reader and competing in a new market aren't things that happen over night; it might be a year before there are is any tangible way to measure the success of those new initiatives.
Koblin's profile of editor-in-chief Jon Meacham from May suggests that this redesign is more about redefining its relationship with existing readers:
"You go back to [editors] Oz Elliot and Ed Kosner and Rick Smith and Maynard Parker, and we all worked from that fundamental template," said Mark Whitaker, Mr. Meacham's predecessor who is now the Washington bureau chief of NBC, and who said he thought Mr. Meacham a brilliant writer. "We changed things, or updated things along the way, but Jon and Tom Ascheim, the new business leader, are saying it has to change now and become a very different magazine. Jon will narrow the focus to a front-of-the-book topic with politics and history and religion, and Tom Ascheim has basically said mass doesn't work for Newsweek anymore. It's a much more of a radical rethinking of the magazine than previous editors have done."
The good news for Newsweek: As far as buzz is concerned, Meacham is torching the competition.
Have a tip we should know? [email protected]