Daily Beast's Howard Kurtz (Finally) Issues A Correction For His Darrell Issa Story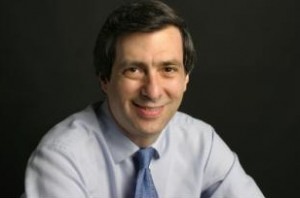 This week, late on Tuesday night, Reliable Sources host and Daily Beast contributor Howard Kurtz issued a correction for an interview he conducted with Rep. Darrell Issa for a story titled "Darrell Issa: The GOP's New Top Cop," published back in November.
As it turns out, Kurtz hadn't spoken with Rep. Issa at all but, rather, with spokesperson Kurt Bardella. Kurtz explains the confusion, informing readers that, after reaching out to Bardella for an interview with Issa, he received a phone call:
That afternoon my phone rang, I heard the words "Darrell Issa" and I thanked the congressman for calling. I asked why "you" made various statements about the president and congressional oversight, and he responded. I called him "Congressman" several times during our discussion. I later emailed Bardella, on Nov. 24, and said: "Hey, thanks for getting me the congressman so quickly. He mentioned the minority having sent 46 letters to the chairman or subcommittee chairmen and getting only six responses. Would you have some or all of the ones that drew no response? Thanks."

Bardella sent the followup information I requested.

On Nov. 29, after my story ran on The Daily Beast, I got a note from Bardella saying there had been "a little confusion" and "it wasn't the congressman you spoke with, it was me speaking in his capacity as his spokesman."
The news has inspired Kurtz's readers to leave comments like the following:
Howard, you need to resign from 'Reliable Sources' immediately. You've had this info for a month, yet you waited until now to correct it? You have no business critiquing the press after this.
Kurtz made sure to mention that he felt the opinions he described as belonging to Issa were not "inaccurate." But that seems almost beside the point – it stands to reason that a spokesperson would speak for the person he or she represents. The real issue at play is why Kurtz waited a month and a half to let his readers know of the mistake. Kurtz attempted to explain his reasoning to Politico:
I was so puzzled by the note that Bardella sent – about my not having talked to the man I repeatedly called congressman, and who identified himself as Darrell Issa – that I wasn't sure how serious he was. He didn't ask for a correction, which he certainly is entitled to if I wasn't in fact talking to Darrell Issa. Then I got busy with other things and I let it slip, and that was a mistake on my part.
Well, then.
Have a tip we should know? tips@mediaite.com