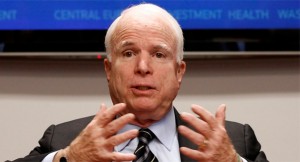 The Washington Post's Dana Milbank slams Senator John McCain in his column today, honing in on McCain's passionate speech on the floor of the Senate yesterday before the final vote that eventually repealed Don't Ask, Don't Tell. Milbank argues McCain's speech yesterday showed an over-the-top level of rage:
If John McCain gets any more hostile toward his Senate colleagues, they might consider having him go through the metal detector before he enters the Capitol.

Saturday's debate on the repeal of the "don't-ask-don't-tell" policy was only half an hour old when the Arizona Republican burst onto the floor from the cloakroom, hiked up his pants and stalked over to his friend Joe Lieberman (I-Conn.) and Senate Majority Whip Dick Durbin (D-Ill.). Ignoring Sen. Jim Inhofe (R-Okla.), who had the floor, McCain hectored the men noisily for a few moments, waving his arms for emphasis.

When McCain finally stormed off, Durbin shook his head in exasperation and Lieberman smiled. A minute later, McCain returned – he had apparently remembered another element of his grievance – and resumed his harangue.

It turns out McCain's fury was stirred by a trifle – he had wanted more time for the debate, which the Democrats eventually gave him – but that was typical. It doesn't take much to set off McCain these days.

Earlier in the week, he was observed in the unseemly act of publicly gloating on the Senate floor over his success in killing a massive spending bill. He's also been raising hurdles to the ratification of the Obama administration's nuclear arms treaty with Russia. At the same time, he led the opposition Saturday to repealing the ban on openly gay men and lesbians serving in the military – taking on Lieberman, who led the other side.

McCain's statement on the floor was roughly one part argument, four parts tantrum. "So here we are about six weeks after an election that repudiated the agenda of the other side," he said, and those who would repeal don't-ask-don't-tell "are acting in direct repudiation of the message of the American people." (Actually, polls show support for repeal.)

He bemoaned "this bizarro world that the majority leader has been carrying us in," and taunted: "Maybe it will require another election." The Arizonan suggested those who vote to repeal would have blood on their hands. "Don't think that it won't be at great cost," he said, punctuating his words by bouncing on his toes and chopping with his left hand. It will "probably," he said, "harm the battle effectiveness which is so vital to the survival of our young men and women in the military."

McCain famously said in 2006 that he would support repeal once military leaders recommended it. Instead, he led the opposition to repeal. McCainologists in the Capitol speculate that on this and other issues he's driven less by policy consideration than by personal animosity. A decade ago, his antipathy toward President George W. Bush led him to seek common cause with Democrats to thwart a Republican president. Now his antipathy toward President Obama has made him a leading Republican hardliner.

On Saturday, McCain's rage was all the more striking because the general tone of the debate was tame. Republicans were mostly defensive, objecting not to the service of homosexuals in the military but to procedures and other technical matters. Sen. Saxby Chambliss (R-Ga.) said of the repeal: "Should it be done at some point in time? Maybe so, but in the middle of a military conflict is not the time to do it."
Read Milbank's full column here.
Have a tip we should know? tips@mediaite.com