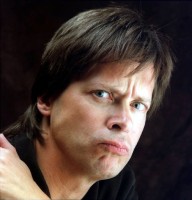 With all of the dour eyes being turned back on 2009, it's a relief that funnyman columnist Dave Barry has taken a crack at summing up the strangeness of "a year that we will be happy to put behind us." Like a lot of Barry's writing, it isn't laugh-milk-out-of-your-nose hilarious, but it's pleasantly funny and occasionally pretty insightful. His takes on the death of journalism, Sarah Palin (of course), and those ever-lovin' Somali pirates after the jump:
On the death of journalism:
BAD NEWS: The downward spiral of the newspaper industry continued, resulting in the firings of thousands of experienced reporters and an apparently permanent deterioration in the quality of American journalism.

GOOD NEWS: A lot more people were tweeting.
Hey-o!
On Sarah Palin:
Sarah Palin unexpectedly announces that she will not complete her term as elected governor of Alaska, explaining, in a prepared statement, that she has a hair appointment. Asked by reporters if she plans to seek the Republican presidential nomination, she replies, "You leave my personal life out of this.'
Hey-o! again.
Barry also has a lot of fun with the Somali pirate craze of earlier '09:
On a more upbeat note, the nation finds a new hero in US Airways Capt. Chesley Sullenberger, who, in an astonishing feat of aviation, manages to land a US Airways flight safely in the Hudson River after it loses power shortly after takeoff from LaGuardia. Incredibly, all 155 people on board survive, although they are immediately taken hostage by Somali pirates.

The Academy Awards are a triumph for Slumdog Millionaire, which wins eight Oscars, only to have them stolen by Somali pirates.
In sports, the New York Yankees, after an eight-year drought, purchase the World Series. But the month's big sports story involves Tiger Woods, who, plagued by tabloid reports that he has been hiking the Appalachian trail with a nightclub hostess, is injured in a bizarre late-night incident near his Florida home when his SUV is attacked by golf-club-wielding Somali pirates.
Here's the full column via the Miami Herald.
Have a tip we should know? tips@mediaite.com