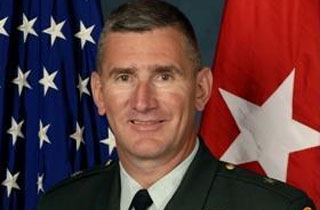 Sen. John Walsh (D-MT) is a decorated general who served in Iraq and boasts a master's degree, but the latter credential is in serious doubt: the New York Times revealed today that over a quarter of the senator's post-graduate thesis was directly plagiarized from other sources.
Walsh received his master's degree from the prestigious United States Army War College in 2007 at the age of 46. In order to graduate, he wrote a highly-lauded thesis about American Middle East policy, praised by his commander as "[setting an] example in maintaining continuous military education and training subjects pertinent to today's leadership challenges." However, an analysis of the thesis found that Walsh cribbed heavily from multiple sources and failed to attribute even more sources, to the point that his conclusion was ripped, nearly verbatim, from a 2002 paper from the Carnegie Endowment for International Peace.
In addition, he copied phrases and language — and sometimes entire pages — from a 1998 paper from the Belfer Center for Science and International Affairs at Harvard, numerous Foreign Affairs articles, the State Department's Bureau of Information, The Wall Street Journal, and multiple foreign policy books. To highlight exactly how much he copied, the Times put together a huge interactive graphic detailing the extent of his plagiarism. For the visually-minded among you, it looks like this:
Montana Senator John Walsh faces questions of plagiarism. How extensive? http://t.co/Lr3ecuQUHa by @nytgraphics pic.twitter.com/35BYcTKlLy

— Paul Volpe (@pvolpe) July 23, 2014
Walsh, who was appointed to the Senate earlier this year to replace Sen. Max Baucus, plans on running this year against Republican representative Steve Daines. In a statement to the Times, a spokesman did not deny that he plagiarized, but "suggested that it be viewed in the context of the senator's long career," hinting he was suffering from PTSD at the time.
The War College has strict punishment for plagiarists, even after they graduate:
As with most military institutes, the War College emphasizes honor and integrity: Its current student handbook states that plagiarism will result in disenrollment and that discoveries of academic violations have led to degrees being rescinded and names being scraped off the bronze plaques honoring graduates on campus.

"Sooner or later, academic dishonesty will be discovered," the handbook, known as the Communicative Arts Directive, warns.
[NYT]
[Image via National Guard Bureau]
—
>> Follow Tina Nguyen (@Tina_Nguyen) on Twitter
Have a tip we should know? [email protected]