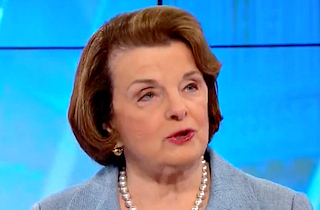 Sen. Diane Feinstein (D-CA) stopped just short of calling for the U.S. to declare war against the Islamic terrorist network ISIS in a Monday op-ed for USA Today.
President Barack Obama has authorized military air strikes against ISIS, which has claimed responsibility for the video recorded beheading of two American journalists. Obama is scheduled to address the nation on Wednesday regarding plans for further retaliation.
In her column, Feinstein acknowledges twice the public's reluctance to engage in heightened military battle, with the U.S. having spent more than a decade fighting in Iraq and Afghanistan:
I strongly believe the United States must lead an aggressive, international effort to confront and eliminate ISIS, including sustained airstrikes in Iraq and Syria. President Obama has now said that he intends to "degrade and destroy" ISIS. I look forward to hearing the specifics of the president's plan when he speaks on Wednesday. We either confront ISIS now or we'll have to confront it later — when it will be a much stronger enemy.

I recognize the reluctance of many Americans to engage in another war in the Middle East. But it is imperative that every American is fully cognizant of how dangerous and deadly ISIS really is. …

I understand that many Americans don't want to become mired in another war. The conflicts in Afghanistan and Iraq have claimed thousands of American lives and cost more than $1 trillion. But Americans need to understand ISIS' degree of viciousness as well as what will happen in the absence of U.S. leadership and action.
[Photo via screen grab]
— —
>> Follow Eddie Scarry (@eScarry) on Twitter
Have a tip we should know? tips@mediaite.com