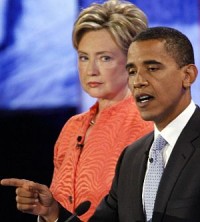 Tina Brown started a bit of a firestorm earlier this week with her Daily Beast column which speculated that "Obama's other wife" Hillary Clinton had become the "invisible woman at the State Department." Cut to the next day's news that Hillary was going to be "reasserting herself" by making a high profile foreign policy speech on Wednesday, and it was difficult not to conclude that Brown had maybe not been far off. Even the Times picked up on the meme in today's front page story about the speech:
Still, her aides and people at the White House dismiss suggestions that Mrs. Clinton has been shunted to the sidelines. Her relationship with Mr. Obama is strong, they say, and she remains an influential voice in all key debates.

The recent personnel issues are part of the pull and tug of any administration in its early days, they argue, and say little about Mrs. Clinton's broader role.
One might expect an "ambitious," "sweeping" speech give by the Secretary of State — particularly given the recent events in Iran and North Korea — to be headline news. And yet, guess what led all three network broadcasts last night? That's right, President Obama, who decided yesterday would be a great day to give personal interviews to the network's medical correspondents. Why yesterday? His health care bill had just been approved, 13 to 10, by the Committee on Health, Education, Labor and Pensions: one of the steps it needs to pass through on its way to the Senate floor.
How important was yesterday's committee results? Important enough to land it on the front page of the New York Times. Important enough to warrant Obama making personal appearances on the networks? Perhaps. But perhaps those appearances could also have waited til tonight. Because in the midst of all this chatter about Hillary's absence from the scene Obama's choice to hit the networks just hours after Clinton's big speech might seem a tad undermining to some. Maybe we're just being over-sensitive. Or maybe it's like Brown says in her piece and this is merely another way in which Obama has brilliantly "checkmated both Clintons by putting Hillary in the topmost Cabinet job."
As it was Hillary was nowhere to be found: she was bumped from the cablers also, by the DC shooting. Interested in what she had to say? You can still read it here.
Have a tip we should know? tips@mediaite.com