On last week's cover of People Magazine was a picture of Yeardley Love, the 22-year-old student-athlete from University of Virginia who was brutally killed on May 3rd by her ex-boyfriend George Huguely. The grisly murder became known as "The Lacrosse Killing" because both the accused and the victim were on UVa's celebrated team at the time of the murder, and the prestigious university became the backdrop for a discussion about abusive relationships, their warning signs, and the search for ways to prevent these tragedies from happening in the future. Love had never filed a complaint against Huguely but reports surfaced after her death alleging that their relationship had in fact turned violent and that Huguely had continued to threaten Love after the relationship ended. People's cover story bears the headline "COULD SHE HAVE BEEN SAVED?"
Five days after the funeral of Yeardley Love, 27-year-old Chrystal Snipes was confronted by her ex-boyfriend Douglas Enroughty, 28, in the front yard of the house where she lived with her father, stepmother, and two children in Chesterfield, Virginia. With the two children watching, Enroughty shot Snipes in the back of the head and then turned the gun on himself, inflicting wounds that would kill her instantly and himself the next day. Snipes's six year old son was walking to the house from the school bus while her two-and-a-half year old son (who Enroughty fathered) watched the killings from his car seat in the driveway.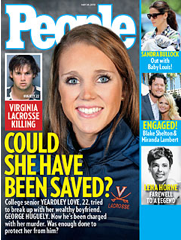 Unlike George Huguely's violent tendencies, which came to light and were put into perspective after his crime was committed, Douglas Enroughty's barbaric behavior was well-documented. Two years ago, Snipes, a nurse's aide, filed a formal complaint with authorities claiming that Enroughty, with whom she then lived, had raped her. In the statement, she said explicitly that she felt she was in danger. For this she received an emergency protective order that was revoked weeks later due to lack of evidence. She left Enroughty and moved in with her father and his wife. Enroughty, a Red Lobster employee, continued to send threatening messages via text and email to Snipes, prompting her and her sister to alert Enroughty's father of his son's problem. At the core of Enroughty's rage was an inability to let Snipes leave him, an inability to let her move on with someone else in her life. As the father of Snipes's youngest, Enroughty did have cause to maintain contact with her by way of his court-sanctioned visitation hours, creating a proximity that only fueled his insecurity and ferocity. According to Snipes's sister, she feared for her safety and the safety of her children.
The Yeardley Love case has rightfully become a catalyst for a discussion about abuse — but one has to question why the Snipes case received almost no coverage. It is true that Snipes was a victim in a city that has a murder rate over six times the national average, while Love was a student at a top-tier college in the significantly safer Charlottesville, tucked away in the Blue Ridge Mountains — but the close proximity, both in days and distance, of the two crimes should have earned Snipes a place next to Love as part of this discussion. Because while it was Love's background that may have attracted the national press, it was not the reason why the murder took place, nor was the setting of the crime a reason why it shouldn't have. If we needed Love to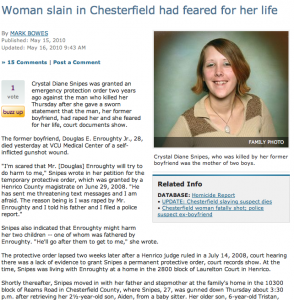 remind us that abuse can happen to anyone, can be committed by anyone, and can happen anywhere, then we desperately need Snipes to remind us that the systems that are supposed to protect us from that abuse don't always work.
After the Love murder, University of Virginia officials were tasked with the job of comforting their students and making them feel safe while at the same time urging them to be more vigilant and do a better job of policing one another: if you see something, say something. But Snipes did say something. She alerted the family of her tormentor, she alerted her own family, and she alerted authorities. If Love's peers ignored their suspicions and did nothing, either because they feared Huguely or because they didn't believe he was a real threat, then Snipes and her family did the opposite by letting everyone know that she felt she was in danger. And still, in both cases, we are left with the same result: authorities searching through email and cell phone records tracing the history of abuse, while families mourn the senseless loss of their loved ones.
People magazine asked of Yeardley Love: "Could she have been saved?" The murder of Chrystal Snipes provides a chilling framework for this question. We unfortunately will never know what effect it would have had on Huguely if the university or authorities had been made aware of his threats towards Love, but we can only hope the lack of support for Chrystal Snipes doesn't dissuade other abuse victims from seeking the help and protection that they deserve and require.
Inside the UVA Lacrosse Killing [People]
Woman slain in Chesterfield had feared for her life [Richmond Times-Dispatch]
A woman killed in domestic-related shooting [Midlothian Exchange]

Jedd Katrancha runs the creative department at Downtown Music Publishing. He grew up in Virginia and now lives in New York City.
Have a tip we should know? tips@mediaite.com