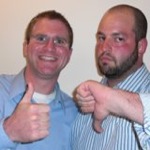 Who: E.L. Doctorow in conversation with Anna Quindlen
What: Reading for Homer and Langley
Where: Barnes and Noble Union Square
When September 15, 2009
Thumbs: Up
E.L. Doctorow has been called many things in his lifetime, most notably one of the greatest writers of all-time. But now he can add a new moniker to that list: prophet.
Anna Quindlen speculated that Doctorow knows something the rest of us don't as he has published several of his books at opportune times. During the heart of the Civil Rights era, Doctorow delivered Ragtime; The March coincided with the Iraq War; and now, as we grapple with the consequences of economic excess, Doctorow releases a novel depicting the Collyer brothers, famed New York City hoarders.
The book, Doctorow said, covers the mythical side of the Collyer brothers, and not the historic. He says, in general, he prefers to imagine rather than to research. Yet, when Doctorow speaks about the Collyer brothers, he describes them in full detail as if he knew them personally and intimately. It was difficult at times to determine whether Doctorow was discussing the Collyers as men who once lived or as characters in his novel who come alive for him in his book.
If the 78-year-old's vigor wasn't enough, Doctorow showed off his exceptional sense of humor. He was outgoing and personable, proclaiming that he tries to add a level of playfulness even to serious topics. Along those lines, Doctorow said that he enjoyed the musical version of Ragtime because it showed a softer side to a controversial era.
He even made light of his own controversy, stemming from public remarks he made in 2004 at Hofstra University. He said that he's kept his personal beliefs out of his work, seeing speeches and other public engagements as opportunities to do something else entirely. He then spent some time revealing what a thrill it was for him to deliver a speech at the 35-yard-line of a football field.
What They Said
"Characters come to you whole. You don't imagine them. They're just there."
– E.L. Doctorow's description of writing characters reminded us a lot of Quentin Tarantino's description
"It's probably a dangerous thing in a marriage to let your spouse read your book."
– E.L. Doctorow, whose  wife is the first reader of his works, like to live dangerously
"I got to the end of the book and I burst into tears, and I offer that to you with admiration."
– Anna Quindlen's closing remarks to E.L. Doctorow, a fitting tribute
"There are three things in life that will never fail you: Chekhov, Mozart and vodka."
– E.L. Doctorow says his schedule backs up this claim
What We Thought
Quindlen began the night by talking about what she thought the book was about (brothers) versus what reviewers have argued (American consumerism). She has not only read the book in anticipation of the event, Quindlen has considered it and internalized it. This led to a natural dialogue as Quindlen got the chance to ask the author all of her questions from reading and examining the book.
It was interesting to listen to Doctorow defend the Collyers' lifestyle saying that pack rats is not an accurate term to use for them. He called them aggregators and curators of their own museum of American life. We were moved by the brotherhood that Doctorow seemed to feel for the Collyers.
Doctorow entered publishing through the movie industry. He read a book a day for a film company and wrote memos outlining which books would be good motion pictures. He said he was encouraged to write a book after reading so many bad ones.
PANEL RULES!
Some audience behavior seems to repeat itself panel after panel. We'll be updating a running list of "PANEL RULES!" that will help ensure that you are not the dweeb of the Panel Nerds.
Panel Nerds don't like…Rabble Rousers
The first rule of asking a question at a panel is that you must ask a question. (The second rule is "Don't talk about Fight Club" – unless it's a David Fincher panel.) If the hostess has to ask you to phrase your point in the form of a question, you've already shown why you shouldn't have been called on in the first place. Bonus Panel Nerds suggestion: to ensure you are asking a question, use the word who, what, when, where, or why.
Panel Nerds Etan Bednarsh and Danny Groner are New York-based writers and avid panel-goers. Want them at your panel? Email them here: PanelNerds@mediaite.com
Have a tip we should know? tips@mediaite.com