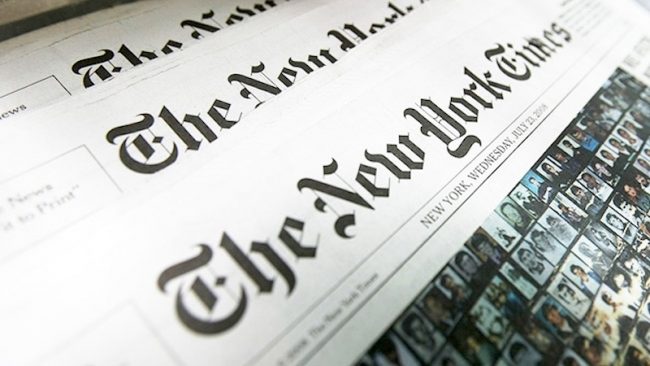 Despite receiving the nickname "failing" from President Donald Trump, The New York Times is actually seeing a surge in earnings, revenues, and trading value as digital subscriptions shoot up — making up for the predictably declining print sales.
The Times reported today that their stock rose 11 percent — reaching their best point in over 10 years — as the paper's fourth-quarter earnings outperformed expectations. Additionally, the Times' stock hasn't been worth this much since before the recession when many media outlets took major hits.
The rise is especially noteworthy as its occurring against the backdrop of fellow media companies struggling, carrying out mass firings, or even closing their doors.
So while the president may have an affinity for the "failing" catchphrase, clearly the claim isn't true. In fact, his constant attacks on the Times may actually prove to be effective for newspaper sales, as domestic politics gain more and more attention in the eyes of the news consumers.
Times CEO Mark Thompson noted the paper continues to experience financial issues with "print advertising, though our rate of decline moderated somewhat in the late part of 2017.
Adding, "Advertising now represents just one-third of our total company revenues."
[images via screengrab]
Follow the author on Twitter (@calebecarma).
Have a tip we should know? tips@mediaite.com