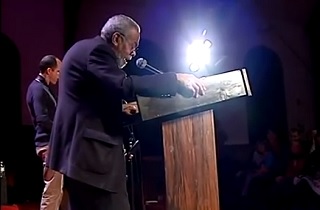 As national media attention focused on New Jersey on Thursday over the current governor's controversy, the subject of a bygone New Jersey controversy-turned-national story has died. Poet, author, and activist Amiri Baraka, who was New Jersey's Poet Laureate just after the September 11, 2001 terrorist attacks, died Thursday after a month-long hospital stay:
Baraka was placed in intensive care at Beth Israel Medical Center last month for an unknown reason, but a spokesman for his son's mayoral campaign said his condition was improving late in December.

Newark Mayor Luis Quintana said Baraka will be sorely missed.

"I went to visit him at the hospital about two weeks ago," Quintana said by phone. "He was more than poet he was a leader in his own rite. He's going to be missed and our condolences go out to his family today."

Quintana recalled Baraka's role in the 1970 Black and Puerto Rican convention, a landmark political meeting that resulted in the election of Ken Gibson, Newark's first black mayor.

"We're going to remember him always for his contributions to Newark, New Jersey and America," Quintana said. "In this time of pain, the citizens of Newark and I are with him."
Baraka had long struggled with diabetes, but it was not immediately clear what the cause of death was.
Born Everett LeRoi Jones on October 7, 1934, Mr. Baraka was no stranger to controversy, but he is best know to national audiences for his post-9/11 poem "Somebody Blew Up America?" and the subsequent uproar, which saw then- Governor Jim McGreevey (D-NJ) try to remove Baraka from his honorary position, only to find out there was no provision in the law to do so. Instead, the New Jersey legislature passed a law abolishing the position completely, ending Baraka's tenure. Prior to his removal as NJ Poet Laureate, Baraka was named Poet Laureate of the Newark Public School System.
Amiri Baraka's bio boasts of honors including "the James Weldon Johnson Medal for contributions to the arts, the American Academy of Arts & Letters award, the Poet Laureate of New Jersey and Professor Emeritus at the State university of New York at Stony Brook. He is a prominent figure in the literary world and is included in scholar Molefi Kete Asante's list of 100 Greatest African Americans."
You can listen to a much younger Amiri Baraka recite his 1965 essay "The Revolutionary Theater," just days before the assassination of Malcolm X, here (courtesy of WNYC New York Public Radio).
Have a tip we should know? tips@mediaite.com