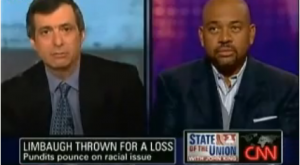 ESPN's Michael Wilbon was on Reliable Sources with Howard Kurtz this morning to discuss an incident earlier this week where he, like many others in the media, falsely attributed quotes to Rush Limbaugh while reasoning that Limbaugh shouldn't allowed to purchase a minority stake in the St. Louis Rams.
Kurtz asked Wilbon about the shortcomings of his fact-checking and the resultant false attribution of a "bogus quote about slavery" to Limbaugh on his ESPN show Pardon the Interruption:
WILBON: That's a journalistic no-no. What? If I had checked and found out the information that we had basic access to every day on deadline, I might have done it anyway. Still, that's wrong and a journalistic no-no, and I said that to him.
But Wilbon put the brakes on the pity party there, saying "Let's not make it seem like Rush Limbaugh has not insulted black people on his radio show… millions of black people know that."
Meanwhile, Limbaugh has taken to the Opinion page of the Wall Street Journal to, as usual, decry the hypocrisy of his critics — most notably Al Sharpton and Jesse Jackson. He also singled Wilbon out by name:
Mr. Wilbon wasn't alone. Numerous sportswriters, CNN, MSNBC, among others, falsely attributed to me statements I had never made. Their sources, as best I can tell, were Wikipedia and each other. But the Wikipedia post was based on a fabrication printed in a book that also lacked any citation to an actual source.
At this point the discussion of Limbaugh's role in bidding on a stake in the Rams has moved so far away from the actual news: On Fox News it's turned into a discussion of racism within the black community that emerges when black people try to defend people like Limbaugh; elsewhere, and on Reliable Sources, it's turned into a discussion about journalistic ethics. And if Rush Limbaugh has his way, it will turn into one hundred other things (including good ratings) before it leaves the news because he's had one crazy week of publicity.
ESPN's Michael Wilbon on Reliable Sources with Howard Kurtz this morning:


Have a tip we should know? tips@mediaite.com