Fareed Zakaria: The Left is Threatening Democracy By Suppressing Voices Like Steve Bannon's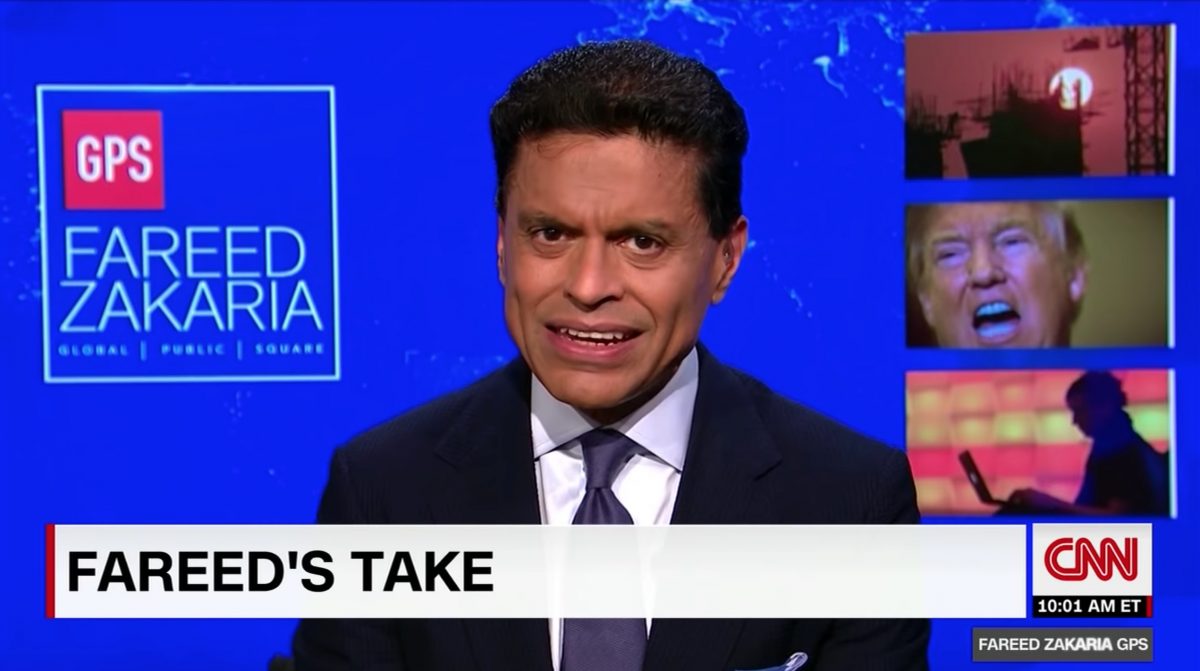 CNN host and Washington Post columnist Fareed Zakaria is one of many media figures who have taken heat for taking Steve Bannon seriously.
Bannon's qualifications are certainly impressive: he guided Donald Trump's campaign to victory in a presidential election. He served as Trump's chief strategist for the first year of his presidency. He's also a controversial figure, having presided over Breitbart's hard-on for white nationalism and architected Trump's travel ban on people from Muslim-majority countries.
There's also an argument to be made that Bannon's influence has flamed out. He was fired from the White House, ostracized from Trump's inner circle, and eventually booted from Breitbart. His lofty ambitions of sparking nationalist revolutions throughout Europe have been mocked.
And so Zakaria, who interviewed Bannon for CNN in June, took flak for giving him a platform. The host responded to that criticism in a Washington Post op-ed this week, bearing the headline: "The threat to democracy — from the left."
"[There] is also a worrying erosion of a core democratic norm taking place on the left," Zakaria writes, chastising liberals for their attempts to deny platforms to conservative voices, from Condoleezza Rice to Charles Murray.
Zakaria first makes the case that Bannon is indeed relevant and influential:
"The reality is that the people running the Economist, the Financial Times, "60 Minutes," the New Yorker and many other organizations that have recently sought to feature Bannon know he is an intelligent and influential ideologist, a man who built the largest media platform for the new right, ran Trump's successful campaign before serving in the White House, and continues to articulate and energize the populism that's been on the rise throughout the Western world. He might be getting his 15 minutes of fame that will peter out, but, for now, he remains a compelling figure."
The Post columnist argues that the left fears Bannon precisely because of his influence. They fear, Zakaria posits, "that his ideas, some of which can reasonably be described as evoking white nationalism, will prove seductive and persuasive to too many people."
"In fact, by trying to suppress Bannon and others on the right, liberals are likely making their ideas seem more potent," he writes. "Did the efforts of communist countries to muzzle capitalist ideas work?"
"It is on this bet for the long run, a bet on freedom — of thought, belief, expression and action — that liberal democracy rests," Zakaria concludes.
Read his column here.
[image via screengrab]
Have a tip we should know? tips@mediaite.com
Aidan McLaughlin - Editor in Chief