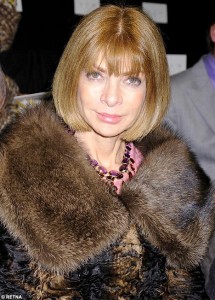 In The September Issue, Vogue's Anna Wintour is referred to as the Pope for her autonomy and infallibility. And though the film documents a time at Vogue before the peak of the recession and subsequent ad sales avalanche, Forbes concurs that Wintour's power and influence may still be at an all-time high, ranking her first among "2009's Most Powerful Fashion Magazine Editors." But more interesting than the number one spot are the multimedia moves Wintour and her fellow editors made to retain relevance as print magazines continue their economic free-fall, not to mention Forbes' overlap with our own Power Grid rankings.
The Forbes list was compiled by comparing a variety of metrics each meant to measure popularity in different spheres, including web traffic, Google prominence and media mentions, as well as advertising revenue for 2009 and year-over-year circulation numbers. While weighed heavily, that of course is all added to the all-powerful Forbes editorial vision in determining their omnipresent "most powerful" lists. The Mediaite power grid measures similar metrics objectively, functioning entirely by algorithm. This year in Forbes, the highest slots went to fashion editors who have diversified their marketability and defined a personal brand outside of the ivory tower of magazine publishing.
For instance, Glamour's Cindi Leive, #2 on the Forbes list, beefed up her magazine's online presence, up 54% in unique users since last year. She also boasts the second highest amount of media mentions, a number that has only gone up thanks to the positive press Glamour received for using a normal-sized model in a September nude shot. As a result of the recent attention, Leive shot up 13 spots in our power rankings, landing at #4 among all magazine editors.
Television has also provided a demonstrable boon for fashion editors, as evidenced by Marie Claire's Joanna Coles (#9 according to Forbes), who has welcomed The Style Network into the magazine's offices to shoot the reality show Running in Heels, and is sponsoring the sixth season of the popular Lifetime show Project Runway. Meanwhile, Harper's Bazaar's Glenda Bailey (#6 on the Forbes list) is a judge on Bravo's The Fashion Show, while #7 Ariel Foxman of In Style has deployed his fashion director Hal Rubenstein to judge on Lifetime's Blush: The Search for the Next Great Make-up Artist. Coles comes in at #45 among all magazine editors according to our own power metrics, while Bailey ranks #33 and Foxman breaks the top twenty.
The lesson is clear and media variety is key, especially for those editors seeking a younger audience who are increasingly turning to the internet. Ann Shoket of Seventeen is hanging on at #24 according to the Power Grid, but slipped one spot from last year's Forbes list, with ad pages and web hits down 15.2% and 10.1% respectively. You know what that means: someone get Bravo on the phone.
Have a tip we should know? tips@mediaite.com