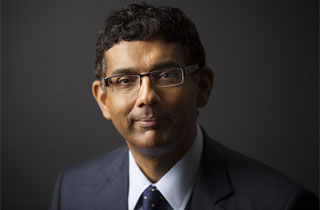 In response to Dinesh D'Souza's accusations that he was unfairly investigated for campaign fraud, the U.S. Attorney's office in Manhattan categorically denied that the pundit had been selectively targeted due to his criticism of Barack Obama, calling his claims "entirely without merit" in a recent court filing.
D'Souza currently stands accused of using acquaintances to donate money to Wendy Long, a long-time friend challenging Kristin Gillibrand's Senate seat, with the understanding that they'd be reimbursed in the future. While he's been making the rounds on the the talk show circuit, claiming that he's a victim of political persecution, the office of U.S. Attorney Preet Bharat said that they began investigating D'Souza after a routine review of Long's political donations.
Though D'Souza's lawyer claims that he simply made a mistake, the prosecution has two pieces of damning evidence, according to the New York Times. First, they pointed out that D'Souza was well aware of contribution limits, having tried to donate $10,000 (twice the legal limit for an individual donation) to the campaign in March of 2012:
A completed form was returned to the campaign reflecting that the $10,000 contribution came from Mr. D'Souza and his wife, prosecutors wrote, but they added that Mr. D'Souza's wife has said that she did not authorize such a contribution or even know it was being made.

"The evidence of illegality with regard to his own and his wife's contribution," Mr. Bharara's office wrote, "will help prove that the defendant knew that what he was doing in August 2012 was wrong and it was not a fleeting, accidental misjudgment; it was part of a larger pattern of flouting campaign finance limits he knew existed."
The second, more salacious bit of evidence, comes from the husband of D'Souza's mistress, Denise Joseph. Remember D'Souza's secret lover? She said this:
Ms. Joseph was recorded as saying that Mr. D'Souza had told her that if he were charged he might plead guilty, but would initially plead not guilty because that "gives him a window of opportunity to get his story out there," the government said. Ms. Joseph had no comment, her lawyer said.
We'll have more when the trial begins next month.
[NYT]
[Image via DineshDSouza.com]
— —
>> Follow Tina Nguyen (@Tina_Nguyen) on Twitter
Have a tip we should know? tips@mediaite.com