Flashback: 2001 Vanity Fair Article Shows Rep. Weiner Courting A 22-Year-Old Staffer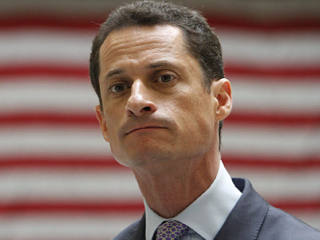 Rep. Anthony Weiner has somehow become the only worthwhile news story for a great deal of the media through what some allege was inappropriate conduct towards a young woman, but this isn't the first time the recently-wed legislator has been (allegedly) caught flirting by the press. A decade ago, in the aftermath of the September 11th attacks, a Vanity Fair article chronicles how the 36-year-old Congressman introduced himself as an auto-parts salesman and asked out a young congressional staffer.
The extensive article, Meanwhile, Back on Capitol Hill, focuses on Diana Davis, a staff assistant to Republican Congressman Mike Rogers, and a cabal of young, morally frustrated young women who have been socially trained to believe connections are superior to skills and spunk superior to knowledge. They flit around the bars of Washington, D.C., looking for men to attach themselves to in order to perhaps one day move beyond intern or assistant status, and it is readily apparently that power is not just the ultimate aphrodisiac, but the only one that works. The ladies write joyfully in their diaries about the men they have met and the drinks they have gotten on Congress's tab, and contemplate whether they have the stomach to go through with a full-fledged relationship with an older, better-connected man. "Maybe I'll bag myself a Senator!" Davis said upon leaving to D.C. By the end of the article, it becomes unclear whether Davis' dream would make her happy in reality.
Davis and her group of attractive women happen upon Rep. Weiner and a large group of Congressmen towards the end of the piece, after the September 11th attacks change mood of the nation's capital. They hesitate to interact with the group of men cackling and feasting at the same establishment as them, but one of them dares engage:

Even Diana looks uncertain about actually venturing into the "boys' club" sanctuary. "Not a woman in there," she remarks.

Then Caroline, the aspiring journalist, feisty and hungry to taste everything Washington has to offer before returning to Britain, settles it. Leaning back, she taps the balding guy on the arm as he returns from the men's room. "What's going on in there? Why are you all having so much fun?" she asks.

The man grins. "Those are a group of congressmen who are friends of mine. I thought they were hungry. They needed to kind of let themselves go." He pauses. "And they are doing that.

"Come in and meet the rowdy crew," he says. And with a toss of her hair, Caroline stands up and goes in.

The women are heckled as they enter. "Tell us your name and where you are from," says one of the men. As if on a game show the women comply, one by one. When Caroline says she is an intern, the largest of the group, a white-haired man with a big belly and big laugh, roars, "We're afraid of interns." He throws his knife at a lean man named Mike, at the other end of the table. Mike is unamused. He threatens to throw it back. Another guy, rotund and jolly-faced, stands up and does an impression of Marlon Brando doing Don Corleone. The others think it's hysterical.

Diana whispers that there is no way they can be congressmen. She figures they are businessmen. She wonders how she is going to get out.

They are congressmen—although at first they pretend not to be. One, the youngest, with a tiny goatee, introduces himself as Anthony, an auto-parts salesman. The others call him "the Jewish kid" and make fun of his beard. Their real names and states are as follows: the auto-parts salesman is Anthony Weiner (D-N.Y.); the lean Mike is Michael Capuano (D-Mass.); the jolly guy who imitated Brando is John Larson (D-Conn.); the man who was worried about interns is Robert Brady (D-Pa.).
Davis notes that her own Congressman, also from New York, was not engaging with the jocular crew because he had just returned from New York, where the loss of the World Trade Center and everyone in it had left him somewhat hollow. "I think you really have to be in New York to feel it properly," he tells her, and the article fails to mention that among the group celebrating inside was, in fact, a New York City legislator.
The "auto-parts salesman," who Davis didn't initially identify as a Congressman, ends up taking a liking to her, though it isn't mutual. The article notes that it took Rep. Weiner a day to "hunt down Diana's email address" and invite her to his office, after boasting the night before that "he'd be going to Manhattan to inspect the World Trade Center wreckage with the president. They'd be traveling together on Air Force One." Davis spent the day, according to her friend, staring at his photos on his official website, but eventually lost interest as he had invited her to his office "in person," which she "thought was kind of cheesy."
And thus concludes the cameo of the current news cycle star in the life of this young, ambitious (in all the wrong ways) staffer, which serves to prove nothing but does color the attitudes of those we send to Washington with quite off colors. While Rep. Weiner doesn't seem to partake in any of the heckling– in fact, it sounds rather like the other Congressmen enjoy roasting him as much as the girls– participating in said patriarchal culture so close to the nation's biggest modern tragedy does about as much to dissuade the casual observer from thinking he doesn't have the character of a person who would have inappropriate photos of himself lying around as his refusal to identify the photo currently in question as either his or not his. If not helping to elucidate any guilt, the piece at least feels eerily prescient that those who covered him, even a decade ago, seemed to be keen on associating him with some shady behavior that blurred the lines between business and pleasure.
Have a tip we should know? tips@mediaite.com