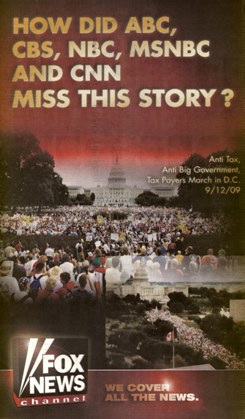 The Washington Post ran a full-page instigating ad in today's paper from Fox News that asks: "How Did ABC, CBS, NBC, MSNBC And CNN Miss This Story?" referring to the D.C. tea party protests on 9/12.
CNN's Rick Sanchez said "you lie!" (seriously, he said that) – since his network and all the others did cover the protests. He also played a clip of Bill O'Reilly saying CNN covered the protests. But Fox News is sticking to their guns, and WashPost is defending the ad buy. What? (Updated, with comment from FOX)
Every network defended their coverage today, and TVNewser has a rundown of those defenses, plus this from Michael Tammero, VP of Marketing for FNC.
"Generally speaking, it's fair to say that from the tea party movement … to Acorn … to the march on 9/12, the networks either ignored the story, marginalized it or misrepresented the significance of it altogether."
Oh okay. So in Fox News' opinion their competition didn't cover the protests (or ACORN or the movement as a whole) in a way that they approved of. It is the opinion of Fox News (not fact, mind you) that the networks "missed" the story. This clears it up, and the ad makes sense. It's not "fair and balanced" by any stretch of the imagination, but at least it makes more sense.
It's also pretty much why the Post is totally fine with their decision. A spokesperson tells Politico, "The Post will not reject an advertisement based on its content or sponsor, unless the ad is illegal, false, advocates illegal actions, or is not in keeping with standards of taste. When we do not see anything in a particular ad that is contrary to these standards, we will not place limits on speech or content."
Here's the bottom line: Fox News didn't "miss" this story because they were the story. They've driven the story, promoted the protests and covered them because they are the protests. The Fox Nation, the FOX opinion/community arm of the network's web properties drove this story by actively helping register people to attend tea parties around the country. Glenn Beck promoted the D.C. protest ("It's Time To Stand Up" he implored his audience) because he started the entire 9/12 movement.
Just look at the way Foxnews.com's supposed "news" story covered the protests in D.C. From their "news" report:
They came. They saw. They protested.

Yet it remains to be seen whether the demonstration Saturday in the nation's capital, against what protesters view as out-of-control spending by an expanding federal government, will conquer Washington.
It's no surprise the other networks are actively trying to discredit this ad. But CNN sensed a chance to pounce, and they have been most active in refuting the point. Today they sent a statement that included dozens of embeddable links of their coverage, images and more.
> Update Saturday at 2pmET: We got ahold of someone at FOX today for a reaction to the reactions. An FNC exec laughed it off, saying, "'Thank you very much,' and a special thanks to Rick Sanchez who has always been a sucker…he's a gift that keeps on giving." (See this from July.)
This was part of CNN's statement:
Fox News' ad today is blatantly false regarding CNN's coverage of the 9/12 rally.

CNN provided live coverage of the rally in Washington throughout the day Saturday, Sept. 12. CNN dispatched more than a dozen personnel and multiple camera crews, including the CNN Express, to cover the event. CNN's deputy political director Paul Steinhauser was live at Freedom Plaza, CNN correspondent Kate Bolduan live from the West Front of the Capitol and roved the crowd, CNN's Jim Spellman provided live hits all day after traveling for weeks on the actual Tea Party Express, and CNN's Lisa Desjardins was live from the National Mall.
You get the idea.
Now that brings us to Sanchez. He unleashed on Fox News during his 3pmET hour. But most ironic – he played a clip of O'Reilly, actually saying CNN covered the protests. Check out his rant:


Have a tip we should know? tips@mediaite.com