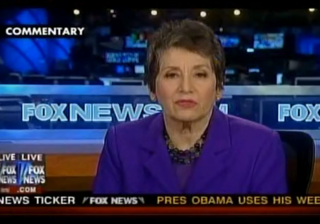 The seemingly organic feud between the New York Times and Fox News took the forefront once more this week when the newspaper's Executive Editor Bill Keller called Fox viewers "among the most cynical people on planet earth" and blamed Rupert Murdoch for the agitated tone of today's media. If you thought Fox was going to take this lightly, you'd be wrong. Fox News contributor Liz Trotta came out swinging today, thanking Keller for the "cynical" label and accusing him of "doublespeak" on the Murdoch matter.
With little hint of surprise in her tone, Trotta noted the "mildly photogenic" (?) Keller was "at it again," and tried her best to make sense of his remark that few things in the media are more cynical than Fox's "Fair and Balanced" slogan. For that, she took a look at the definition of "cynical" and found that all three Oxford dictionary definitions are "practically an obligation for young reporters" and, by pointing that out, Keller was giving a compliment that merited thanks on her part.
"We don't take things that are handed to us on a plate and we don't have an agenda," she noted, concluding this was the basis for Keller's disdain. Specifically, she continued, the New York Times "can't stand anybody that disagrees with them" and has become a "megaphone for the left" and "throwaway newspaper" that is "dissolving in red ink." If those aren't fighting words (in the colloquial, not legal, sense), then what are?
Trotta's rebuttal via Fox News below:

Have a tip we should know? tips@mediaite.com