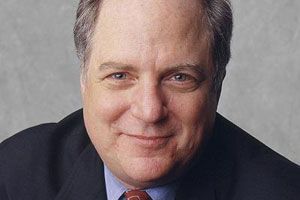 A huge hire for New York Magazine, and a big shake-up in the media world: Frank Rich, who has been writing for The New York Times since 1980, is leaving the paper for NY Mag.
Beginning in June, Rich will not only contribute essays for the magazine, he'll also act as its editor at large, overseeing a "special monthly section anchored by his essay," and posting regularly to nymag.com.
As expected, Twitter is, well. All atwitter with the news. New York Times cultural news editor and restaurant critic Sam Sifton, for one, noted that NY Mag editor in chief Adam Moss sounded "pleased as punch" to announce the hire. And T.J. Ortenzi, the Washington Post's senior social media producer, declared Rich's move a bold, if humble, one:
Frank Rich is leaving NYT. Which means new headshot. Which, as a vain person, I imagine is reason enough for aging columnists to stay put.
One Tweeter (Twitter user? Twitterer? Twit? Your guess is as good as ours.) made a rather interesting choice for Rich's possible replacement, telling Keith Olbermann, now of Current TV, that there should be a regular New York Times byline in his future.
Rich, for his part, leaves the New York Times with fond memories and high hopes:
I leave the paper with deep affection for both the institution and my many brilliant colleagues, and with much gratitude for the opportunity the paper gave me to serve in two dream jobs in journalism. I've spent much of the past year talking to friends inside and outside the Times about what might be most exciting for me next. It was impossible to top the idea of reuniting with my friend Adam Moss, who has played a crucial role in my writing life since the late eighties and who, as editor of the Times Magazine, was instrumental in my transition from arts criticism to broader essay writing.
Have a tip we should know? tips@mediaite.com