French Paparazzo Claims WaPo Will Break Obama/Beyoncé Affair; Is Probably Just Projecting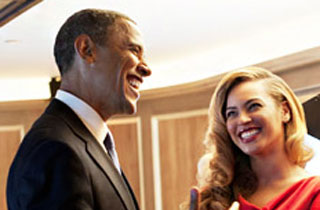 Ever since the President of France was caught cheating on his partner of seven years — with a gorgeous French movie star, no less — the world's been obsessed with imagining world leaders having affairs with hot women from the entertainment industry. (See: the recent Bill Clinton/Liz Hurley rumors.) But now, a famous French photographer just upped the presidential fan fiction ante with his claims that Barack Obama is having an affair with noted hot entertainer Beyoncé — and that the Washington Post is going to break this story. Oh! And he's supposedly getting divorced from Michelle Obama, too!
(He's totally not running Francois Hollande's scandal through Microsoft Word and replacing "Hollande" with "Obama". Nope. Not at all.)
Controversial paparazzo Pascal Rostain is so sure of his scoop, he's claiming that we're going to hear about it , like, tomorrow. "It'll go out tomorrow in the Washington Post," he said earlier today, according to Le Figaro. "[So] we can not say that it is the gutter press [reporting] on [an] alleged affair."
A gutter spokesperson for the Post told Poynter that the paper was "definitely not" running a sexxxy article about Barack and Beyoncé Doing It, and if they were, they weren't planning on running anything that hot tomorrow. This is disappointing, because that would mean that there was someone at the Post cool enough to get that close to Yoncé.
But of course, Rostain's evidence is foolproof — he saw photos of the Obamas at public events, and Barack Obama totally looked like he had had sex with Beyoncé at some point in his life. "There are [photographs and] television images of the Obamas [in which they are] a little distant," he said, adding that he "found the same thing [in images] between Holland and [former girlfriend Valérie] Trierweiler."
To truly make this story French wish fulfillment, though, the affair would have been conducted in Rostain's apartment, because the first affair between Hollande and Trierweiler was also conducted in Rostain's apartment.
(Serious note: there's only one way to definitively conclude whether a person has had sex with Beyoncé, and that is if that person brags about it in a song featuring Beyoncé.)
[h/t Jezebel]
— —
>> Follow Tina Nguyen (@Tina_Nguyen) on Twitter
Have a tip we should know? tips@mediaite.com