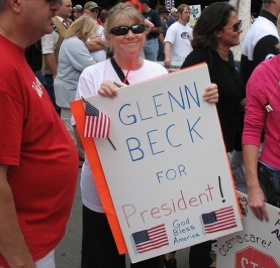 Turns out Game Change, the bestselling 2008 election gossip tome that introduced "Negro dialect" and "O'Biden" into our political vocabulary, was only the first volume in a presidential election series. Authors John Heilemann and Mark Halperin signed a book deal today with Penguin Press, abandoning Game Change publisher HarperCollins for more than $5 million dollars to do it all over again in 2012. But if the campaigns know Heilemann and Halperin are watching, isn't it guaranteed they'll be less embarrassing, and thus less interesting?
According to Crain's Business Journal, the deal was reached after a bidding war among publishers for the book, and the price tag came as a shock to some executives who thought that, while the original book did spectacularly, putting that many eggs in one highly-questionable basket seemed like an unprecedented risk. On the one hand, no risk– no reward. On the other, the price suggests they are certain that the sequel will be as good as the original or better judging from the 2010 political landscape and perhaps not realizing that the original release of Game Change itself is the worst thing that could have happened to the upcoming book.
There are two major possible pitfalls for the authors and the publisher that just put about a dozen of their kids through college. The first is the one mentioned above: campaigns will be more self-aware than ever, and sources more dedicated to keeping to themselves. No one wants to trip over the same stone twice, even if the people involved in the 2012 campaigns are completely different from those in 2008. In this sense, Game Change 2 is a bit like launching a second season of Jersey Shore: no element of surprise for the audience or the protagonists with a high chance things will get predictable or tame.
The other issue for Halperin and Heilemann is that it is impossible to predict what the national political atmosphere will look like two years from now. What if, instead of Glenn Beck and Sarah Palin ripping each other apart for the Tea Party nomination while Michael Steele himself decides to launch an all-out "the black Barack Obama" campaign against the incumbent, we get a completely clean, fair, issue-based election? What if Americans are expected to choose between Obama's slightly left-of-center record on health care and foreign policy and, say, Tim Pawlenty's moderate welfare and immigration reform platform? Even worse, what if campaign staffers on both teams behave professionally?
Yes, it seems impossible, but the entire concept of Sarah Palin seemed impossible about two years ago, so anything can happen. Game Change was a hit because it was political Perez Hilton material in a hard cover that hid away the shame. It was not a book for policy wonks. So if Penguin and the Game Change authors want their massive transfer of money to have been worth it, they'd better donate money to Alan Grayson and start some "Andrew Breitbart for President" Facebook groups and hope they can keep the partisan momentum going all the way into 2012.
[Photo via]
Have a tip we should know? tips@mediaite.com