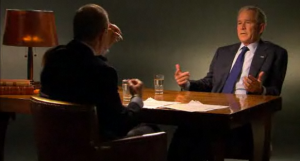 Just like Commander-in-Chief George W. Bush, book promoter George W. Bush believes in the idea of preemptive strike. During his hour-long interview with Matt Lauer, Bush was the first one to bring up what NBC News calls "one of the most contentious issues of his presidency." "Let's talk about waterboarding," the former president said. Let's.
After Bush summarized his administration's decision to waterboard Khalid Sheikh Mohammed, the two men had the following exchange:
Lauer: Why is waterboarding legal, in your opinion?

Bush: Because the lawyer said it was legal. He said it did not fall within the anti-torture act. I'm not a lawyer. But you gotta trust the judgment of the people around you, and I do.
Lauer confronted Bush with the allegation that he and his team "got legal opinions they wanted from their own people." Bush batted away these claims and referred us back to his book, Decision Points, which we can only hope contains a highly comprehensive and elegant defense of torture.
But Lauer further pressed Bush, who tried to end the matter emphatically: "I will tell you this: using those techniques saved lives. My job was to protect America. And I did."
Yet the matter didn't end for Lauer, who asked the former president whether it would "be okay for a foreign country to waterboard an American citizen." But Bush just kept plugging: "All I ask is that people read the book."
Bush finally confirmed that he'd use the same techniques again, and the two moved on to discuss Afghanistan. Watch the NBC clip of the interview below:
Have a tip we should know? tips@mediaite.com