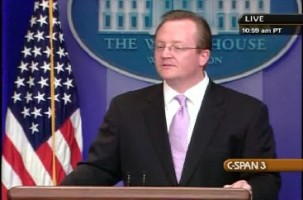 Conservative World Net Daily reporter and talk show host Lester Kinsolving asked Robert Gibbs this hilariously loaded question at yesterday's White House briefing:
What was the President's reaction to the more than 2,000-page health care bill which so few congressmen read being passed by only five votes and costing more than a trillion dollars, on which 39 Democrats voted no?
Gibbs' answer displayed the wit that some critics say results in too-frequent laughter in the briefing room, and cut right to the heart of the matter.



Lester is something of a character, to put it mildly, but he has had a long, strange career. He was first to report on Jim Jones' People's Temple in 1972, long before that cult's tragic end. He ran into trouble in 1977 when it was reported that he received stock payments from the South African government while advocating against the anti-apartheid movement. The incident resulted in sanctions against Kinsolving, some of which he successfully appealed. Les doesn't deny accepting payments, but maintains that his opposition to the anti-apartheid movement was rooted in their failure to seek sanctions against Idi Amin.
He's also a staunch opponent of gay rights, a fact that I learned a few weeks ago as I was leaving the White House with another reporter, The Advocate's Kerry Eleveld. Les was leaving at the same time, and he asked us if we thought that marriage rights ought to be extended to polygamists and inter-species couples.
It's ironic, then, that Les was a pioneer in AIDS awareness. Although it might not have been his intention, he exposed the Reagan administration's ignorance of the disease early on with this 1982 exchange with Press Secretary Larry Speakes:
Les Kinsolving: Larry, does the president have any reaction to the announcement—the Centers for Disease Control in Atlanta, that AIDS is now an epidemic and have over 600 cases?

Larry Speakes: What's AIDS?

Kinsolving: Over a third of [the victims] have died. It's known as "gay plague." (laughter) No, it is. I mean it's a pretty serious thing that one in every three people that get this have died. And I wondered if the president is aware of it?
Speakes: I don't have it. Do you? (laughter)

Kinsolving: No, I don't.

Speakes: You didn't answer my question.

Kinsolving: Well, I just wondered, does the president—

Speakes: How do you know? (laughter)

Kinsolving: In other words, the White House looks on this as a great joke?

Speakes: No, I don't know anything about it, Lester.

Kinsolving: Does the president, does anybody in the White House know about this epidemic, Larry?

Speakes: I don't think so. I don't think there's been any—

Kinsolving: Nobody knows?

Speakes: There has been no personal experience here, Lester.

Kinsolving: No, I mean, I thought you were keeping—

Speakes: I checked thoroughly with [Reagan's personal physician] Dr. Ruge this morning, and he's had no—(laughter)—no patients suffering from AIDS or whatever it is.
Lester's style of hollering questions (whether he's called on or not) while pointing that shotgun mic like a dagger might be cause for amusement in some, but the impact of his career in journalism is no laughing matter.
Have a tip we should know? tips@mediaite.com