GOP Congressman Gives the Most Hilariously Incomprehensible Defense of Trump to Date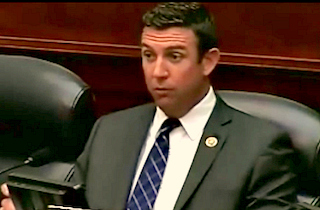 The co-chairman of Donald Trump's House Leadership Committee Rep. Duncan Hunter said Friday that you can't expect Trump to do everything he says he will, but you can expect him to do what he says he will. His attempt to reconcile the two ideas went about as well as can be expected.
Hunter and his fellow Trump supporters in the House were being grilled by reporters Friday. "I think what he says and what he'll do are two different things," Hunter said after saying he was done with trying to explain Trump's comments.
The Washington Post's Mike DeBonis wasn't about to let that go unremarked upon. "So what should we believe when he says something? What should we believe when it comes out of his mouth?" he asked.
"What he said," replied Hunter.
"But you just said you don't necessarily believe what he says is what he's going to do," DeBonis pressed. Hunter's response was somewhat inelegant:
"Right. True. But him talking about things and saying things about things is different than him saying what he's going to do. I think he'll do what he says he's going to do. I'm not trying to parse words; I think he'll do what he says he's going to do. But he says things about things that I don't endorse, and I'm not going to try to articulate for him."
Oh, that clears that up.
[Image via screengrab]
——
>>Follow Alex Griswold (@HashtagGriswold) on Twitter
Have a tip we should know? tips@mediaite.com